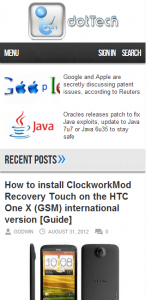 Just over two weeks ago dotTech went to the salon and got a makeover. At the time I promised dotTech's mobile version would get a similar remodeling. That time has arrived. Hit up http://dottech.org on your mobile device and you should see dotTech Mobile 4.0.
If you visit dotTech on your mobile device, you will notice I made every effort for dotTech Mobile to be similar to dotTech proper. However, some differences are inevitable due to the nature of mobile devices but they should be minor.
Take note that I have made the decision to disable dotTech Mobile for iPad seeing as iPads have large enough screens to handle the regular version of dotTech. If dotTechies insist on reinstating dotTech Mobile for iPad, I shall do that.
Please let me know of any bugs or issues you encounter in the comments below. Also feel free to leave your feedback in the comments below. I'd especially like to know which devices dotTech Mobile is working well and which devices it isn't.
(I already know the search page on dotTech Mobile is too wide. I'm working on fixing that. Google is making it tricky.)
Thanks!
-Mr. Boss
Related Posts