Paragon is known for the quality software it makes. So when I hear about a chance to get one of their software for free… I almost faint with excitement I am very happy. Until now the only major, besides Giveaway of the Day giveaways, copy of Paragon software I have been able to attain for free legally is Paragon Hard Disk Manager 8.5 SE. Today I am here to tell you about how you can get Partition Manager 9.5 Professional for free! However please note Paragon Partition Manager 9.5 Professional is only available for free from August 7th, 2009 to August 11, 2009 midnight BST (British Summer Time). If you do not download and register it between that time you are out of luck – sorry (go back to Paragon Hard Disk Manager 8.5 SE or try EASEUS Partition Master [the link to EASEUS Partition Master is a review of the Pro version but a very similar free version is also available])! However if you do download it and have registered it, you should be able to uninstall/reinstall it at your leisure as long as you keep the .EXE file and registration information safe.

Before I spill the beans on how to get it, let me give you an quick overview of what this software can do:
User Friendly Fault Minimizing Interface
Graphical representation of the data to gain a better understanding.
Two-level user interface to satisfy the needs of the most demanding customer.
Comprehensive wizards to simplify even the most complex operations.
Resize partitions directly on the Disk Map with the drag-and-drop technique.
A context sensitive hint system for all functions of the program.
Previewing the resulting layout of hard disks before actually executing operations (so-called virtual operations).
Backup Facilities
Support of all present day techniques to store backup images:
– Backup The term backup originates from the time when the best way to protect valuable information was to store it in form of archives on external media. It's become now a general notion to mean making duplications of data for protection purposes. to local mounted/unmounted (without drive letter assigned) partitions;
– Backup to a special secured place on the hard disk called the Backup Capsule that has an independent system layout (e.g. a separate partition) and will stay operable should the active file system be damaged. To avoid an accidental removing or unauthorized access of the backup data, this partition is hidden and thus cannot be mounted in the operating system;
– Backup to external media (CD/DVD) to guarantee a high level of data protection as long as the backup media is kept secure;
– Backup to a network drive to stand a better chance of success in case of a hard disk failure.
Sector backup to save not only all on-disk information but also the system service structures. It is ideal for making a backup image of an entire hard disk or system partitions to guarantee the operating system's working capability.
Restore Facilities
Restore an entire disk, separate partitions or only files you need from the previously created backup image.
Restore with Shrink to restore a backup image to a free block of smaller size taking into account only the amount of actual data of the image.
Copy Facilities
Partition/hard disk copy to successfully transfer all on-disk information including standard bootstrap code and other system service structures, thus maintaining the operating system's working capability.
Boot Management Facilities
Boot Manager Setup Wizard to easily manage several operating systems on one computer.
Partition/Hard Disk Management Facilities
Basic functions for initializing, partitioning and formatting hard disks (create, format, delete). Instead of the standard Windows disk tools, the program supports all popular file systems.
Express Create Partition Wizard to create a new partition in the most appropriate place of your hard disk, format it to NTFS and then make it available in the system by assigning a drive letter.
Merge Partitions Wizard to consolidate the disk space, which originally belongs to two adjacent partitions (NTFS, FAT16/FAT32), into a single, larger partition.
Redistribute Free Space Wizard to increase free space on one partition by up-taking the on-disk unallocated space and the unused space of other partitions.
Express Resize Partitions Wizard to increase free space on one partition by up-taking the unused space of an adjacent partition of your hard disk (including partitions of Apple Boot Camp).
NTFS hot resize upward to enlarge an NTFS partition (system, locked) without rebooting Windows and interrupting its work.
Convert a file system (FAT16/32, NTFS, Ext2/Ext3) without reformatting.
Mount a partition (assign a drive letter) of any file system type to make it available for your operating system.
Modify file system parameters (make active/inactive, hide/unhide, change serial number In the DOS partitioning scheme, every hard disk and every partition has a 32-bit serial number represented by an 8-figure hexadecimal value. It is stored in the MBR and its value is assigned when the MBR sector is initialized by Microsoft standard disk managing tools, such as Windows Disk Administrator and the FDISK utility. In fact, a hard disk's serial number is not important for most operating systems and software. It is known that Windows NT, 2000 and XP store its value in the database of assigned drive letters. A partition's serial number is stored in its boot sector (in FAT16, FAT32 and NFTS file systems). Its value is assigned when the partition is formatted. It does not play an important role for most operating systems and software as well. , partition ID or File system ID is a file system identifier that is placed in the partition. It is used to quickly detect partitions of supported types. A number of operating systems completely rely on it to distinguish supported partitions. Partition ID is saved in appropriate entries of the Partition Table and takes only 1 byte of space. , volume label or Partition Label is a small textual field (up to 11 characters) that is located in the partition's boot sector. This value is used for notification purposes only. It is detectable by any partitioning tool including the DOS FDISK utility. Modern operating systems save it within a file system, e.g. as a special hidden file. Thus it is able to contain a relatively large amount of text in multiple languages. , etc.).
Install New OS Wizard to make your system ready to install a new operating system.
Install Windows OS Wizard to get your Intel-based Mac ready to install Windows either as a sole operating system with the option to back up your Mac partition, or as a second operating system, thus making a dual-boot system.
Undelete Partitions Wizard to recover an accidentally deleted partition.
File System Optimization Facilities
27 defragmentation strategies available to defragment FAT and NTFS file systems.
MFT Master File Table is a relational database that consists of rows of file records and columns of file attributes. It contains at least one entry for every file on an NTFS volume, including the MFT itself. MFT is similar to a FAT table in a FAT file system. defragmentation and shrinking to improve performance of NTFS.
Safe Defragmentation Mode to guarantee data loss free defragmentation of any version of NTFS and FAT.
Low free space defragmentation (less than 1% of the free space required) to successfully defragment almost full disks.
Auxiliary Facilities
File Transfer Wizard to make such operations as transferring of files/directories or burning of them to CD/DVD as easy and convenient as possible. Providing access to Paragon backups as regular folders, it may also help to replace corrupted data from a previously created image in case of an operating system failure.
Volume Explorer is a handy tool when you have different file systems on the disk, whether they contain an operating system or just data. Volume Explorer will let you explore a file system of any type and provide access to the necessary files and directories regardless of their security attributes.
Recovery Media Builder to create a Linux/DOS bootable media, which can later be used to boot and recover your computer in case of an operating system failure. Moreover, with its help you can save data from partitions of your hard disk directly to compact discs or burn ISO-images. The utility supports various formats of laser discs: CD-R/RW, DVD-R/RW, DVD+R/RW, DVD-R, DVD+R double layer, Blu-ray and can handle multi-session burning.
Network Configuration Wizard to establish a network connection under Linux either to save a backup of a partition/hard disk or just several files on a network computer or retrieve a previously made backup from a network computer for recovery purposes.
Holy crap that is a lot of words explaining the features in very complicated ways don't you agree? As they say "a picture is a worth a thousand words":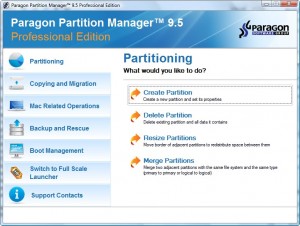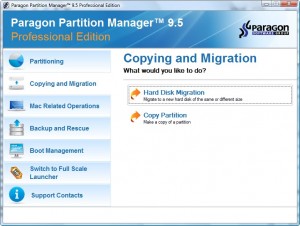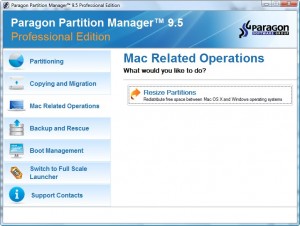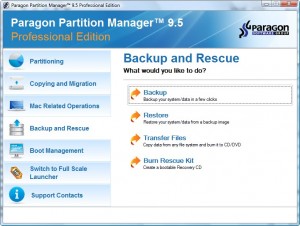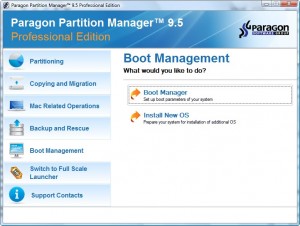 Okay still confused about this software? Let me put it even more simply: it kicks ***. Great software.
Paragon Partition Manager 9.5 Pro works on 32 and 64 bit versions of Windows 2000, XP, and Vista. If you need Windows 7 support you will need to purchase the latest v10.0 ($80 for Pro or $40 for Personal).
To get Paragon Partition Manager 9.5 Pro for free, do the following:
Visit VNUNET's promotion page and download it (Vista 64 bit users download this one). The download size is 119 MB (very large unfortunately).
Update: please be patient – the download site is going very slow!
Update2: Screw this. If VNUNET has a problem with this they can contact me directly. It is their own **** fault for having sucky servers – I tried my best to direct you to their website as per their wishes but now I am afraid many people will miss out on this. Here are some mirrors to download this program:
Paragon Partition Manager Pro
Paragon Partition Manager Pro (Vista 64-bit only)
Download Paragon Partition Manager Pro from those mirrors at your own risk. I did not create the mirrors so I cannot verify the uploader did not modify the original files to add malicious crap before uploading them.
Update3: This promo has ended so I am removing the above mirror links.

Once you finish downloading it, install it.
During installation there will be a screen like the following: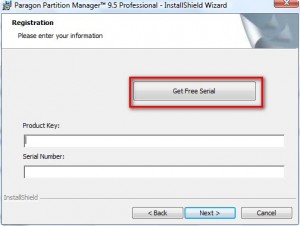 Click on "Get Free Serial" and the registration page will open in your web browser. Enter the required information:


Feel free to use your real e-mail because Paragon does not spam. Or if you must, you can make use of Mailinator or 10MinuteMail anti-spam services.
Once you have hit "Submit" go check your e-mail for an e-mail from "eservice@paragon-software.com" with the subject of "A letter from Paragon". In the e-mail you will find your product key and serial number:

Copy and paste them in their respective areas in the installation window and finish installing.
Restart your computer after installation.
Enjoy your new (and free) copy of Paragon Partition Manager 9.5 Pro!
If you have any questions or problems please post below – I will try to help. Or you can drop by http://twitter.com/paragonsoftware to get help from the developers of this software.
Related Posts