Update: This promotion has ended! Sorry for those who missed it.
Remember Eltima SWF & FLV Toolbox? It was given out by Giveaway of the Day back in December when I reviewed it. Well in case you lost it or you missed the giveaway you can attain the same version as the giveaway (v3.5) from Brothersoft.com! I won't talk much about the software in this thread because you can refer back to my full review to learn more. However I will say this is a very useful freebie for people who work with flash (.SWF, .FLV, and .EXE) a lot… especially considering this software can convert .SWF -> .AVI – something most video converters cannot do (you can always use FormatFactory after you get the video in .AVI to convert it to other formats if you wish).
Here is a quick description of what this software can do:
SWF & FLV Toolbox converts individual or batches of Flash SWF/FLV files into Projector EXE, AVI, frame-by-frame JPG/GIF/BMP image series, or single animated GIF.

SWF & FLV Toolbox features an extremely useful Advanced Projector specialty, that lets creating EXE files out of any SWF / FLV, thus making it possible to watch SWF / FLV movies using handy controls and without installing Flash Player on a PC.
Eltima SWF & FLV Toolbox works on Windows 2000/ XP/2003/Vista/2008. Officially 64-bit does not seem to be supported but you may still be able to get it to work.
To get Eltima SWF & FLV Toolback (v3.5.25.503) for free follow this simple guide:
Download it (click here for the promotion page in case download link doesn't work).
Install it. During installation you should see the following screen: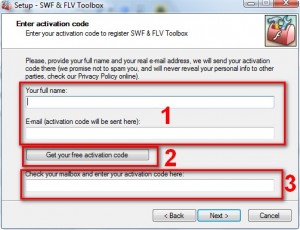 Type in your name and e-mail address (you must type in both). I don't know if Eltima spams or not so feel free to make use of Mailinator, 10MinuteMail, or Trashmail. Then click "Get your free activation code". You will get the following success message if it worked:

Check your e-mail for an e-mail from "Eltima Software <support@eltima.com>" with the subject of "SWF Toolbox – Free copy". In the e-mail you should have see your registration code:

Ironically notice that Eltima is using the same file/registration link for this giveaway as they did for Giveaway of the Day back in December.

Copy and paste the registration e-mail in the back in the last field in the installer window.
Finish installing and enjoy!
Update: Please do not worry that this freebie is from Brothersoft.com. I know Brothersoft.com has a bad reputation for hosting files with malware on them. However I promise you this SWF & FLV Toolbox download is 100% clean. VirusTotal found nothing and my Avira stayed quiet during install. Furthermore, this is the same exact file that was given out by GOTD. Nothing to fear friends!
Related Posts