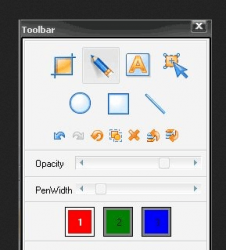 There are a lot of screen capture programs out there. However, not all of them allow you to share your screenshots with family and friends immediately after taking them. Well, that is what Jet Screenshot is all about. This is a program that allows you to literally share your programs with whoever you want seconds after you take it.
WHAT IS IT AND WHAT DOES IT DO
Main Functionality
Jet Screenshot is a screen capture program. It allows you to take screenshots of the full screen, an active window, a certain region, or of an image saved to your clipboard. The thing that makes Jet Screenshot stand out among other programs is the fact that you can share your captured screenshots online immediately with a link to your image.
Pros
Capture screenshots of your whole screen, an active window, a certain region, or image from your clipboard
Customize your own hotkeys
Share your pictures immediately after taking them, via an online link to your image
Basic and advanced editing tools available to edit your screenshots after you snap them (depending on the version of the program you get)
Pictures can be saved online for up to a year
Cons
Cannot capture scrolling window
Screen capture technology is nothing amazing. Provides the same quality and screenshotting tools as any other screen capture program on the market. This means the biggest draw of this program is the ability to share your screenshots quickly via the internet.
Basic tools that are available in the free version are sub-par
Discussion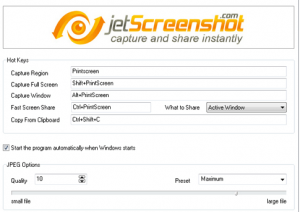 There are tons of screen capture programs on the internet. So this just begs the question: Why do we need another one? Well, Jet Screenshot is a bit different from all the other screen capture programs offered online. This is because the program does not just allow you to take screenshots, it helps you share them as well.
As far as screen capture goes, Jet Screenshot works well enough. You can choose to capture an active window, the full screen, a region of the screen, or whatever image is copied to your clipboard. You can map out all of these options to Hot Keys. This means you don't have to bring up the Jet Screenshot menu page every time you want to take a certain screenshot, and that is a good thing.
Once you take a screenshot, you have the ability to edit your picture. If you are using the free version of this program, you have access to only basic editing tools. There's nothing fancy here at all. If you sign up for the Home or Pro versions of the program, you get access to advanced editing tools. I did not get a chance to try the "paid versions", so I am not able to comment on how great these "advanced editing tools" are.
As I talked about above, there are a few different versions of this program. First, there is the free version which I used. The program is free, but there are of course limitations. For example, your online pictures are only stored for 30 days. On top of that, there are watermarks on the screenshots you take. If you want to remove these limitations and gain extra features, you need to buy the Home or Pro versions. These two versions are the same except for one feature. The Pro version allows for commercial use, and the Home version does not.
If you buy the Pro or Home versions you can enjoy the following: Advanced editing tools, no Jet Screenshot logo on your screenshots, the ability to put in your own watermarks if you want, no ads near screenshots you post online, the ability to send screenshots to your own FTP server, and the ability to send screenshots in PNG format. The Home version will run you $1.95 a month or $14.95 a year, and the Pro version costs $4.95 a month or $29.95 a year.
CONCLUSION AND DOWNLOAD LINK
In general, Jet Screenshot is a good program. It works well as a screen capture program, and the ability to share your screenshots online via a link is a helpful feature. The problem, however, is Jet Screenshot does nothing groundbreakingly unique that freeware screenshot programs cannot do. In fact, lack of the ability to capture scrolling windows puts it below many free screenshot tools. Sure most free screenshot tools don't allow you to share your screenshots via an online storage link as seamlessly as Jet Screenshot, but do you want a screenshot program for its ability to take screenshots or its ability to share those screenshots? My guess is the former. If you agree with me, I'd suggest checking out PicPick or FastStone Capture for your screenshot needs — both are excellent and free.
That said, Jet Screenshot does have a free/demo version you can try. So you don't have to take my word for it — give the software a whirl and decide if you like it. If you do, you can always upgrade.
Price: Three versions available — Free, Home ($1.95 a month or $14.95 a year), and Pro ($4.95 a month or $29.95 a year)
Version reviewed: 3.0.1.0
Supported OS: Windows 98 / Me / NT / 2000 / XP / 2003 / Vista / 7
Download size: 2.7MB
VirusTotal malware scan results: 0/46
Is it portable? No
Related Posts