Ashampoo Cover Studio is a program that allows you to create covers for DVD/CD cases, covers and booklets. Here is the software description from the developer:
Do you still label your CDs and DVDs with handwritten scribbles? It doesn't look good but creating good-looking labels is such a drag – first you have to figure out a complicated program, then you have to spend half an hour "designing" something that looks halfway decent.
Enter Ashampoo Cover Studio, the new disc label designer for everyone. It guides you step by step and will have you producing great-looking discs, booklets, covers and cases in no time. Just follow the directions, choose the look you like and print.
Ashampoo Cover Studio also supports modern direct-to-disc printers that eliminate the hassle and fuss of applying labels to your discs.

Point and click or design your own

The new Ashampoo Cover Studio comes with a stack of professional themes and it can import track and data lists directly from the disc you want to label. For fast results you can use point-and-click design – or you can use your own graphics and do everything your own way.

If you've ever struggled with label design software you'll be amazed at how easy it can be. Just enter a title and any other data and then select one of the pre-designed themes. Your data is entered in the theme automatically and you're ready to print.

Point-and-click label design
Ready-to-use themes – just enter your title data
Import track data from your disc
Design and create:

Disc labels
Booklets
Covers for jewel cases, slim cases, DVD and Blu-ray cases

Add your own backgrounds, text objects, images and data tables
Fast alignment and editing tools for images and text

Features and functions

The entire program is designed as an interactive guide. You just select what you want to print – for example a printable disc, a label, a booklet or a case cover – and click Next. Then you will be guided to get the results you want.

Supports all standard disc, case and booklet and label formats
You can design and print printable discs (DVD, CD, Blu-ray), jewel cases, slim cases, Blu-ray cases and booklets.
Use modern direct-to-disc printers
Printing directly onto printable discs means no messy label alignment with special tools.
Import your track data from your discs
Reads the track data from your discs directly into pre-formatted tables in your design. Gets the artist and track data online in seconds.
Point-and-click design with themes
For fast results just enter or import your title and track data, select a theme and print. That's all there is to it and the program comes with a set of great-looking themes.
Design your own if you want
If you're feeling creative you can also create your own designs from scratch. Choose and use your own backgrounds, graphics and fonts, create curved text and add data and contents tables.
Please note the following:
This is not intended for creating eCovers; covers you create with Ashampoo Cover Studio are meant to be physically printed out.
If you already have Ashampoo Burning Studio 2009 Advanced, ABS09A has Cover Studio features already built in; in fact the Cover Studio built into ABS09A looks like it has a couple of extra features as opposed to this standalone version.
This is Ashampoo Cover Studio not Ashampoo Cover Studio 2.
Ashampoo Cover Studio works on Windows 2000/XP/Vista/7. You can grab it by doing the following:
Visit ComputerBild.de's promotion page and click on .

After you have finished downloading it, install it. During installation you should see the following window: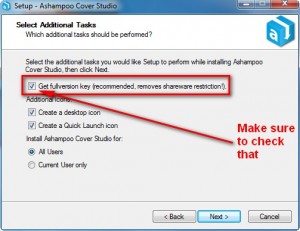 Make sure you have "Get fullversion key…" checked. Click "Next" and finish installing.
After installation has finished, the registration page should open in your default browser. The registration page will be in German. You can change it to English by clicking on the USA flag located at the very top of the page…

…or visit the English registration page directly by clicking here.
At the registration page you will be asked to fill out a short form. You are only required to fill in your e-mail address: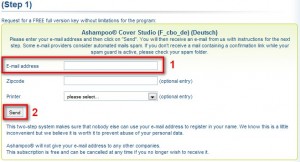 When entering an e-mail address keep two things in mind:
Hotmail e-mail addresses are not supported by Ashampoo. Don't ask me why.
Ashampoo spams. So either use one of your spam e-mails, or make use of Mailinator, 10MinuteMail, or Trashmail anti-spam services. My suggestion would be to use a spam e-mail because you are bound to want to get more Ashampoo freebies in the future and having an Ashampoo account is handy.
If you already have an Ashampoo account just enter that e-mail. If this is the case you will also be asked to login.
After you have registered check your e-mail for an e-mail from "Ashampoo <MrReg@ashampoo.com>" with the subject of "Ihre Registrierung – Ashampoo® Cover Studio (F_cbo_de) (Deutsch)". In the e-mail you will find your registration code: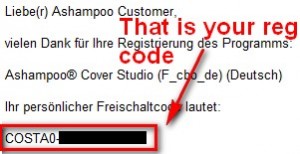 Copy the code.
Run Cover Studio if you closed it or go back to it if you have it open. You should be prompted to register the software. Do so: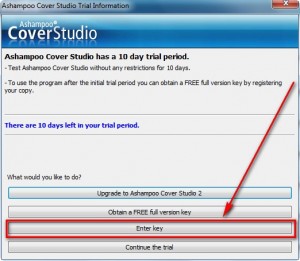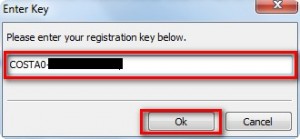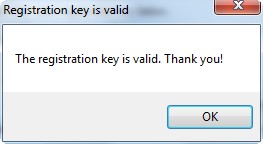 Enjoy your new, and free, Ashampoo Cover Studio: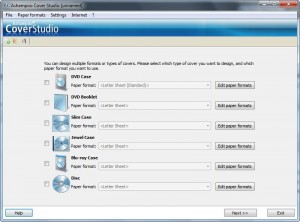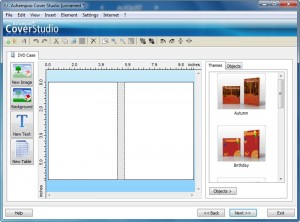 If you have any trouble getting this, please post below and I will try to help.
Related Posts