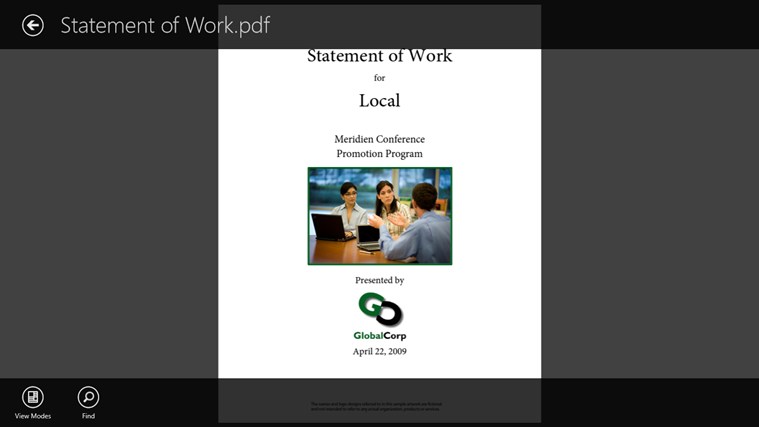 Adobe Reader definitely is one of the most used PDF reader if not the most. And the desktop version of Adobe Reader is a huge hit because it does its job properly and provides more than asked for. And this leads to great expectations from the app for Windows 8. But all our expectations are dampened.
What is it and what does it do
Main Functionality
Adobe Reader is a PDF reader app. It is the Windows 8 counterpart of the famous desktop software.
Pros
Simplistic Interface
Fast and doesn't take much of resources
Options to Zoom and different view modes
Cons
No keyboard and mouse options
No option to rotate screen
No option to highlight text
No annotations option
Discussion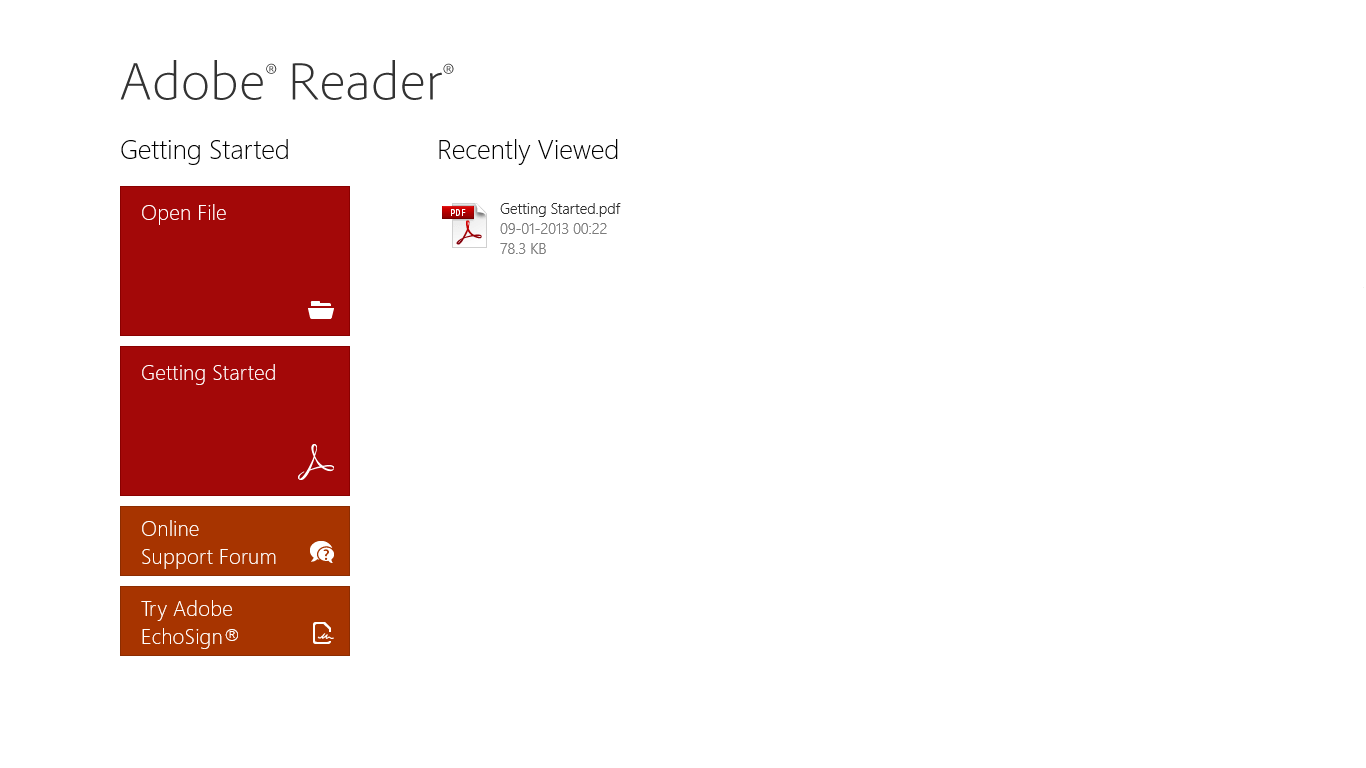 Adobe Reader is the default app for most people. Right from Windows XP I remember having used Adobe Reader for all my PDFs and other related document purposes. I never felt for a need for another reason. Though there used to be a lot of security issues and bloat, it did its job so good that I didn't search for alternatives. But with Windows 8, I used the default reader app. And then again, I didn't search for alternatives, not because if that good. It did its job. And then came the Adobe Reader app. I really had my expectations high for this one.
But the app wasn't that great. To begin with it has a pretty similar interface to the default interface. Simplistic interface isn't a bad thing. It helps you to focus on that one thing that matters. Reading. And also there isn't the usual bloat and also it means the usual security issues don't affect this.
Also there are some decent options. You can share documents using the Charms bar. And also you have options to zoom and there are different view modes.
And one more thing that I noticed about this app was that for the first time it wasn't taking much of resources. It was pretty fast courtesy the lack of options and the UI. But as you will read on, this lack of options is a double edged sword.
As for cons, I used to enjoy the keyboard shortcuts and the options with mouse. Okay, I guess mouse options are redundant but I love Windows 8 because of the Keyboard Shortcuts. Maybe the app was made with the touch interface in mind, but I guess Adobe can make a different app for us PC users.
Also the usual set of options which are found in the default reader like rotating screen, or highlighting text or annotations are missing. I mean these options are what make a PDF reader. I can't imagine using a reader without annotations or text highlighting. And on top of that with the lack of these basic options, I presume it is futile to expect more advanced features like text to speech, etc which are found in the desktop version of the app
Conclusion and download link
In conclusion, I don't see a reason why anybody would download this. The default Windows 8 PDF reader app is decent and suffices all the basic needs. If you need something a little more powerful, go for the Adobe Reader's desktop counterpart Adobe Reader X; Adobe Reader app hardly provides any options and looks the same as the default Reader. Unless you are a diehard fan of Adobe and would like to support them at all costs, you can skip this app.
Price: Free
Supported OS: Windows 8, Windows RT
Supported architectures: x86, x64, ARM
Related Posts