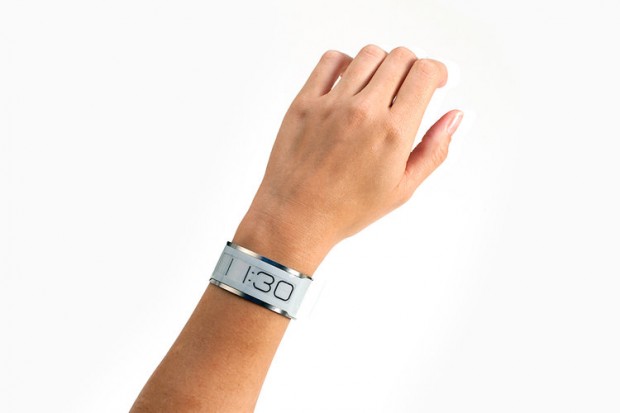 This is the CST-01. It doesn't connect to the internet, display biometrics or control your phone. But it's probably the most innovative use of technology that we've seen awhile.
The CST-01 uses E-Ink technology for its display due to it being low power and flexible. This allows the watch to be the thinnest ever (0.8mm) — all while being flexible enough to fit all sorts of wrist sizes. Another unique aspect of the watch is the fact that you can't change the time on the watch itself. According to its creators, why put something that the user only interacts with rarely? To change the time, the watch will come with a dock that also doubles as a charging station. A single 10 minute charge on this dock can power the watch for around a month. The watch is powered by a Thinergy cell and a Seiko Epson microcontroller.
"We explored adding as little mechanically and aesthetically, so that the qualities of these partners could shine through." said Jerry O'Leary, who is co-designer along with Dave Vondle. It looks like people like their idea too — as a Kickstarter that was launched in the middle of CES asking for $200,000, they've gone on to receive almost half a million dollars in funding with still over a month left. The CST-01 will be retailing for $170 and according to the Kickstarter page, should be making its way to backers by September of this year. If you're interested in one of these watches, you can pledge $129 and get a unit for yourself at the link below!
CST-01: The World's Thinnest Watch
[via Co.Design]
Related Posts