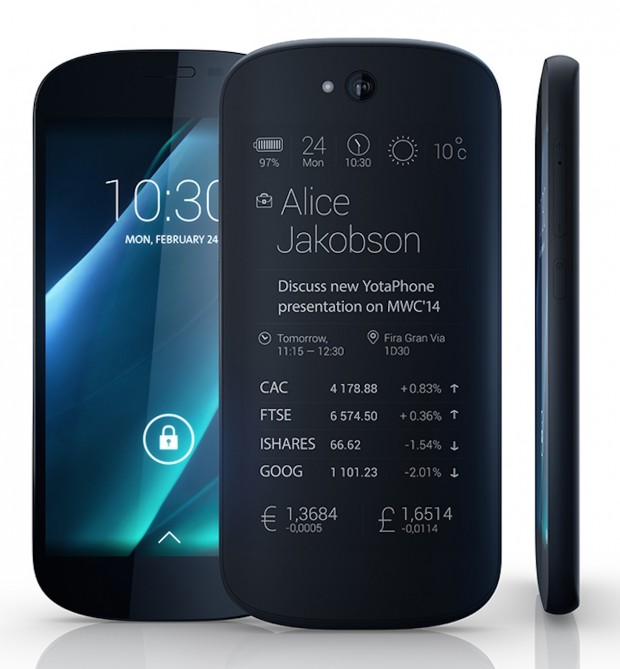 While it doesn't carry as big of a name as Nokia or Samsung, Yota could have introduced the most innovative phone at the recently concluded MWC. The YotaPhone 2 is a direct successor to the YotaPhone, carrying the same dual display design as the original. It's also better in every possibly way, making it a serious contender in the Android marketplace.
The YotaPhone 2 now has bigger displays, a 5-inch AMOLED in front for your traditional smartphone use and an awesome 4.7-inch e-ink display on its back. The e-ink screen allows users to see notifications and respond to messages without having to turn on the main screen of the phone, but it will also have dedicated apps that will take advantage of it. Speaking of advantages, Yota says that when using the secondary display, users will be able to get over 50 hours of battery life. 50 hours. It's no slouch when it comes to resolution either, since it's a 960 x 540 qHD display.
Other specs include a Qualcomm Snapdragon 800 processor, 2 GB of RAM, 32 GB of storage, 8 MP camera, NFC, wireless charging, and the "latest Android version."
The YotaPhone 2 will hit EMEA markets and Russia in the 4th quarter of this year, with Asia and the US to follow around three to four months after. No word on price just yet.
[via BGR]
Related Posts