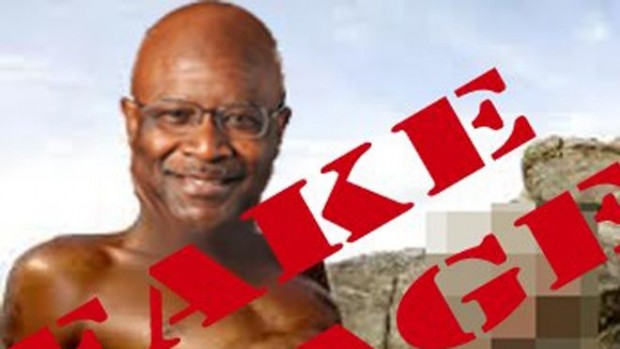 First of all, the above image is quite disturbing — I apologize but it is necessary to convey the gravity of this story. Georgia State Representative Earnest Smith has introduced a bill to ban the practice of imposing the facial image of a person onto an obscene depiction (in the state of Georgia only — Smith isn't part of US Congress but rather Georgia Congress). More specifically, he wants to ban people from photoshopping his head onto a porn star's body.
"No one has a right to make fun of anyone. It's not a First Amendment right," said Rep. Smith. His bill would impose a $1,000 fine, one year in prison or both to anyone that "causes an unknowing person wrongfully to be identified as the person in an obscene depiction in such a manner that a reasonable person would conclude that the image depicted was that of the person so wrongfully identified."
Are there people that can't actually tell these are photoshops?! That probably explains the "Fake Image" label placed by blogger Andre Walker, who has created images of Rep. Smith in these indecent situations. Here's what he had to say:
"I cannot believe Rep. Earnest Smith thinks I'm insulting him by putting his head on the body of a well-built porn star. The First Amendment to the Constitution of the United States protects all forms of speech, not just spoken word."
To add to to Walker's sentiment, free speech in the USA is a lot more flexible when directed at public figures than it is when directed at everyone else. In other words, what might be considered hate speech at an average person may not be hate speech at a public figure like a representative. You would think a publicly elected representative would know that.
I think if there's one thing that Rep. Smith has done by introducing the bill, it's show more people the images of himself. Oh well, too late now.
[via Ars Technica, The Verge, image via Georgia Unfiltered]
Related Posts