A little while ago I wrote about a program called CleanMem. CleanMem is a program designed to optimize the usage of your computer's RAM. However as an added bonus Shane, the developer of CleanMem, added the ability to clear file cache in the same efficient manner. O&O CleverCache 6 Professional is a program that does similar things:
O&O CleverCache 6 Professional is a unique tool that optimizes the File Cache Management for Windows Vista, NT, 2000 and Windows XP. This results in an enormous increase in performance boosting a system's performance at times to up to twice its original speed. All this is achieved without the need for additional hardware or any reduction in your system's stability. You simply install O&O CleverCache 6 and you're ready to go – no need to reboot. It automatically recognizes your configuration, and within 5 minutes you can unlock the hidden resources on your Windows system! The more the file cache grows, the less memory is available for running applications. The result is a significant decrease in performance as requests for memory lead to the so-called "swapping" of memory. This occurs when unused memory segments are paged out to the hard disk's paging file. Because hard disk access is slow relative to Memory, loss of performance is inevitable. O&O CleverCache 6.0 Professional Edition is optimized to meet the day-to-day needs of individual users. The software is optimized to run on Windows NT4 Workstation, Windows 2000 Professional, Windows XP Home Edition, Windows Vista and Windows XP Professional.

Highlights


O&O AutoSense Profile (predefined user profiles)
Applies, exports and imports individual profiles
Monitors the most important system components
System tuning and further control and monitoring through the System Tray
Improved File Cache management
Mem-O-Free for more available main memory
Mem-O-Safe for increased security in a system crash
Detailed memory use and cache statistics
System tuning and monitoring
Now will I be using O&O CleverCache 6 Professional? No. I have plenty of RAM and CleanMem covers my basic memory management needs. So I see no major reasons why I should get CleverCache especially considering I am on Win7 and O&O CleverCache 6 Professional does not officially support Win7 (if anyone has a compelling argument as to why I should use O&O CleverCache 6 Professional, please do tell). However for those that desire to get it, O&O CleverCache 6 Professional is another winner from Germany (O&O is a German developer).
To get O&O CleverCache 6 Professional, follow these simple directions:
O&O CleverCache 6 Professional works on 32-bit and 64-bit versions of Windows Vista, XP, 2000, NT 4.0.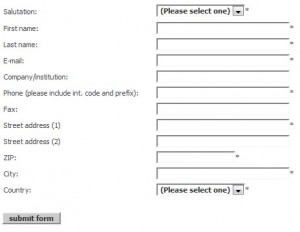 I don't know if O&O spam so feel free to make use of Mailinator, 10MinuteMail, or Trashmail anti-spam services.
Check your e-mail you registered with for an e-mail from "O&O Register <register@oo-software.com>" with the subject of "Your free license of O&O CleverCache 6 Professional". I had to wait about 5-10 minutes to get my e-mail.
About half way down (in the middle) of the e-mail you should be given your registration information: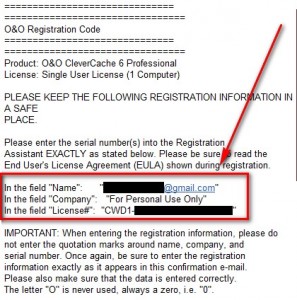 Copy the license number.
Visit the download page (click here), enter your registration information, and download O&O CleverCache 6 Professional: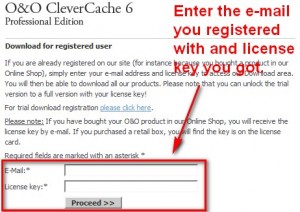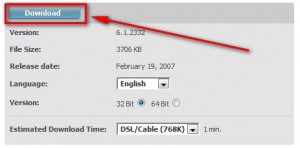 Install O&O CleverCache 6 Professional after you have finished downloading it.
After installation you should be prompted to enter your registration information; enter it: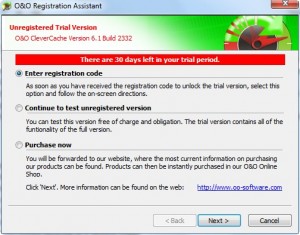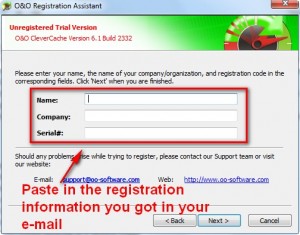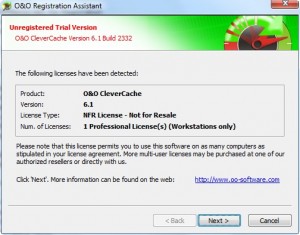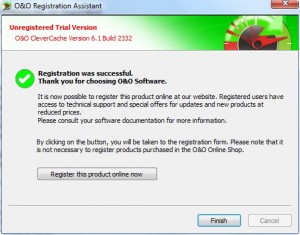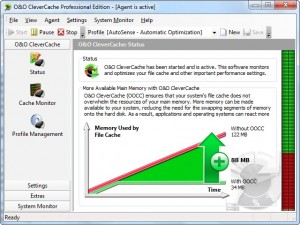 If you have trouble getting O&O CleverCache 6 Professional, please post below and I will try to help.
Related Posts