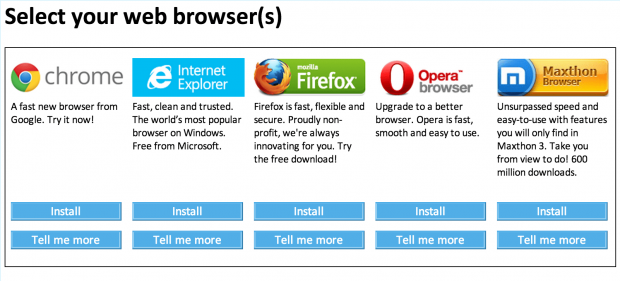 Microsoft has just been fined 561 million euros (approximately $732 million) for breaking an antitrust agreement made in 2009.
In that agreement, Microsoft complied with the EU's request to include a "browser ballot box" in every new copy of Windows which allows people to select their default browser for Windows. But due to what the company is calling a "technical error," this was removed in Windows 7 SP1. According to the EU, this resulted in 15 million Windows users not seeing the ballot box and instead defaulting to Internet Explorer, hence the fine.
This $732 million fine isn't quite as big as the previous EU fine on Microsoft ($1.44 billion), but it counts for 3 percent of the company's profit for the whole 2012. And according to a statement by Microsoft, the company will not be seeking an appeal:
"We take full responsibility for the technical error that caused this problem and have apologized for it. We provided the Commission with a complete and candid assessment of the situation, and we have taken steps to strengthen our software development and other processes to help avoid this mistake – or anything similar – in the future."
This has got to be one of the more expensive "technical errors" in recent tech world history.
[via The Verge]
Related Posts