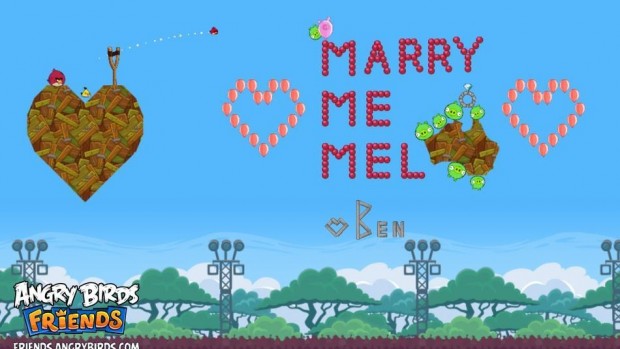 Here's a rather unorthodox way to propose. A young lad named Ben actually proposed to his fiancé Melissa through the mobile game Angry Birds. Yep, that's right! The very same game that has you fling angry fowl at pesky green piggies.
Ben is such a fan of Angry Birds that his significant other often joked the game "would probably be part of [their] wedding." Ben actually got in touch with Rovio and asked them to create a custom mobile app which would help him propose to his wife-to-be, Melissa. The developers did something better and created Ben a custom level inside the latest game. Instead of making the level private however, the developers just included it in the latest content pack for Angry Birds Friends. In fact, if you download the game now you can still experience the level for yourself.
In case you didn't already know, Angry Birds Friends is a spin-off of the original game and it first appeared on Facebook. It included newly implemented social features which allowed players to compare their scores via an online leaderboard. More recently, Angry Birds Friends made its way to mobile platforms. Naturally, that's the version of the game that Ben used to propose to his lover.
Ben actually took Melissa to a restaurant that had significant meaning to the two of them. After being there for a while, he pulled out a Galaxy tablet and had her play some Angry Birds. When she made it past level three, the proposal was displayed on-screen, and the rest is history.
If you'd like to read the creative process that Ben went through to get this proposal ready, you can visit his personal blog. I've also included a charming video below that actually shows Ben proposing to Melissa. Warning, if you're a sap then you'll probably shed some tears.
Despite the rather geeky theme, it's actually a very romantic proposal. What do you think? Let us know in the comments below!
[via Mashable]
Related Posts