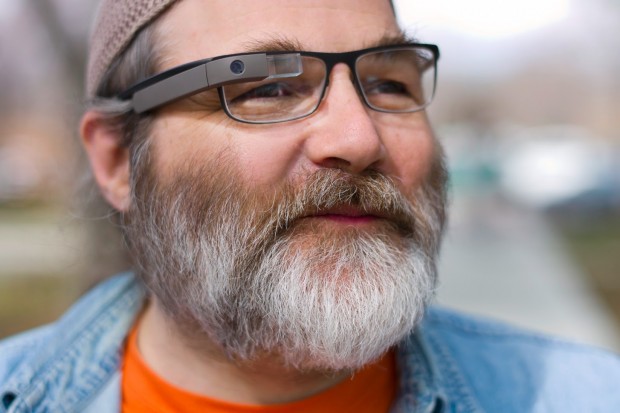 Ask anyone you know that follows tech how to activate Google Glass and they'd most likely tell you, correctly, it's "Ok Glass." It's easy, it's simple and it actually sounds kind of cool and futuristic somehow. But it wasn't always like that, and the Glass team might have gotten a little lucky with this one.
Amanda Rosenberg, Product Marketing Manager for Google Glass revealed the story behind the phrase in a post on Google+. It turns out that Rosenberg wasn't even working for Google yet when she thought it up! When she was invited to dinner by Glass Product Manager Mat Balez and his wife, she thought it would be the perfect opportunity to prove her worth and be part of the marketing team for Glass, which at the time didn't exist yet.
When Balez told her that the team had been trying to think of a "hotword" for Glass, the first thing she actually thought of was "Ok Glass." But instead of telling him right away, she decided to say that she'd look into it so she could give it some more thought. After trying to think of something else, she realized she could not think of other phrases for it and decided to email her rationale for "Ok Glass." Here's the email, which you can click on to get a closer look: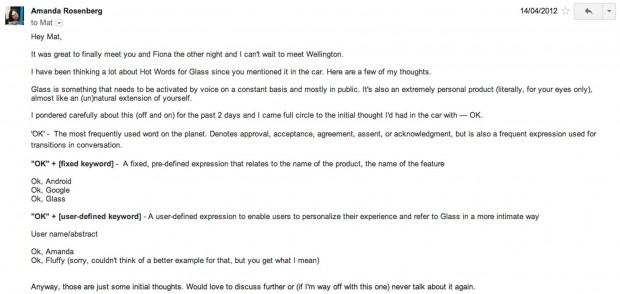 It actually makes a lot of sense. Google seems to think so too, since a week after the team implemented the phrase in the device, she began working for them. After telling her interesting story, she went ahead and asked Balez to send over the list of other phrases that the team was suggesting. Here are her favorites:
-Listen up Glass
-Hear me now
-Let me use Glass to
-Go Go Glass
-Clap on
-Device, please
-3, 2, 1…
-Glassicus
-Glass alive
-Pew pew pew
I'm not sure which I prefer the most here. Glassicus would kind of make it sound like everyone with Glass was from Hogwarts, so I might have to go with that one… although I've always wanted to say pew pew pew in public.
Which one is your favorite? Or do you have your own suggestions to activate Google Glass? Share them with us in the comments below!
[via Amanda Rosenberg]
Related Posts