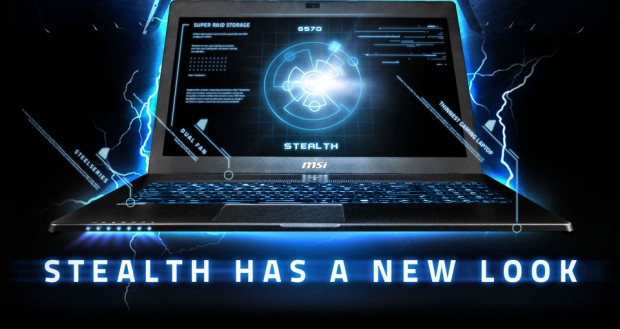 Before Razer came on the scene, every gaming laptop MSI released was huge and clunky with serious battery life problems. However, that's all in the past now since the company announced a new 17-inch gaming laptop that is dubbed as the thinnest and lightest in its class — and we expect Razer to have something to say about that in the coming months.
We never thought in a million years we would come to the point where MSI chooses to slim down its line of gaming laptops to something worth carrying around. Competition is a great thing, for if it was never for Razer and its line of ultra-thing gaming laptop devices, the MSI GS70 may never come in this thin and lightweight form.
We understand the device comes with a massive 17.3-inch display, an Intel core i7 Haswell processor, and NVIDIA Geforce GTX 765M graphic card with 2GB of GDDR5 memory. When it comes to system RAM, this bad boy is packing 16GB worth of it at a speed of 1600MHz.
Here is what Andy Tung, VP of sales at MSI US, had to say about this beast:
"The GS70 has the capability to crush the most demanding games and the featherlike portability for on-the-go multi-tasking or gaming. We understand the needs of our audience and are committed to delivering solutions that exceed even the highest expectations."
If you want to get your hands on the MSI GS70, prepare yourself to pay $1,999 or $1,799, which is expensive but less expensive when compared to the $2,000+ 17-inch Razer Blade.
MSI GS70 system specs:
• Intel® Core™ i7-4700HQ Processor

• 17.3″ Full HD Anti-Reflective Display (16:9; 1920 x 1080)

• NVIDIA® GeForce® GTX 765M 2G GDDR5 • Matrix Display

• Cooler Boost

• Full Color Anti-Ghosting Backlit Keyboard by SteelSeries

• Super RAID (128GB SSD x 2; RAID 0) + 1TB HDD

• 16GB DDR3L 1600MHz System Memory

• Killer™ DoubleShot Technology (Killer™ E2200 + Killer™ Wireless-N 1202)

• USB 3.0 x 4

• HDMI, mDP X2

• Built-in 720p HD webcam

• Sound Blaster Cinema
So… who is getting one?
Related Posts