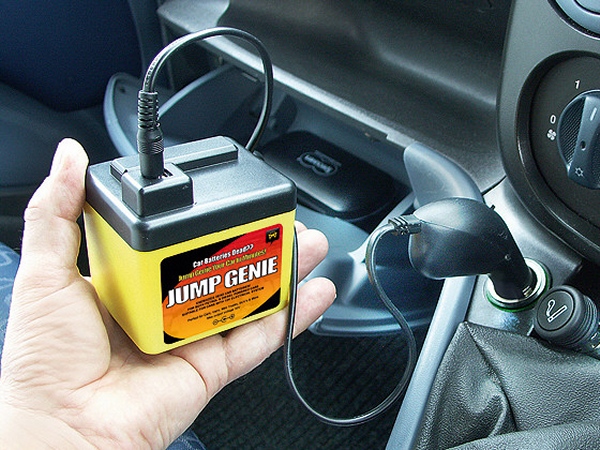 Don't you just hate when your car battery runs down? The worst part is that you'd have to go ask strangers if they have jumper cables and if they will jump start the battery for you. Well thanks to Jump Genie, your days of begging for jumper cables are over — and you don't even have to open the car hood!
Just plug Jump Genie into the cigarette lighter, and it will charge your car battery for you. It obviously takes a few minutes to charge and the juice it gives your car is just enough to drive to a mechanic, but hey it's better than going around asking for jumper cables, right? Once your car has enough charge for you to drive it, just start the engine and go.
Jump Genie is small enough to fit into your car's storage compartment, and it is something that we all should carry in our cars. Another good thing about this device is that you do not need a separate charger, just leave it plugged into the cigarette lighter and it will re-charge itself as you drive — takes about 40 minutes. (Assuming your battery can support a re-charge — we don't recommend leaving Jump Genie plugged into a car you just jump started with Jump Genie.) Then it will be ready for future needs.
Want to get one for yourself? You can pick it up for 29.95 euros (roughly US$49) at The Verdict.
[via Technabob, Red Ferret] 
Related Posts