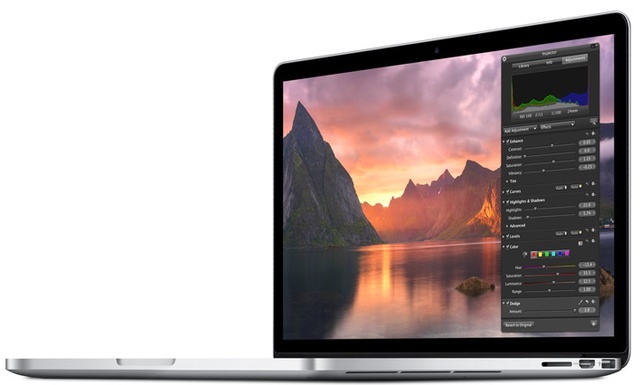 Apple updated in the summer the MacBook Air line of laptops with Haswell processors, fast PCIe SSD and 802.11ac connectivity and in the event last night presented updates to the MacBook Pro line.
One year after the launch of the first MacBook Pro with Retina Display, Apple revealed the news last night brought to the second generation of this product line. If the model with 15″ screen retains the same dimensions, the new 13″ with Retina Display is now thinner, has 18 millimeters, and easier: 1.56 pounds.
MacBook Pro with Retina display of 13.3″, IPS panel and 2560 x 1600 pixel resolution offers an Intel Core i5 clocked at 2.4 GHz, 4 GB RAM, SSD with PCIe connectivity with a capacity of 128 GB and graphical interface Intel Iris 5100. As shown, the 13″ model overcome, finally, the graphics power to the little MacBook Air, but the default amount of RAM is now only 4 GB, not 8 as before. Those who want a slightly faster processor can opt for a Core i5 processor clocked at 2.4 or 2.6 GHz, as can opt for 8GB of memory and 256 or 512 GB.
Retina version with 15.4″ IPS panel and resolution of 2880 x 1800 pixels retains the same thickness of 18 mm and the same weight of 2 kg, hardware configuration featuring an Intel Core i7 clocked at 2 GHz, Intel Iris Pro 5200 Integrated Graphics and 256 or 512 GB PCIe SSD storage. Optionally, users can opt for 16 GB of RAM, 1TB of internal storage and an NVIDIA GT 750M interface.
Both models now offer wireless interface 802.11 a/b/g/n/ac, including two Thunderbolt 2 ports, three USB 3.0 ports, Bluetooth 4.0, Mini DisplayPort video output and 720p front camera. Taking advantage of improved Haswell processors efficiency, MacBook Pro 13″ and 15″ promise 9 and 8 hours of battery life.
As expected, Apple is preparing to eliminate MacBook Pro with Retina display. In the company's offer remained now only the smaller 13″, which is not even updated. Prices of new Apple laptops starts at 1,299 dollars, or 1999 dollars, a decrease of $200 compared to the prices yet. Version 13″ with Retina is priced at 1199 dollars.
On this occasion, Apple announced the availability of the OS X 10.9 operating system, the update is now free. Furthermore, the company announced that iLife and iWork suites are now free for new customers, Apple making the same move as on the iOS platform.
Related Posts