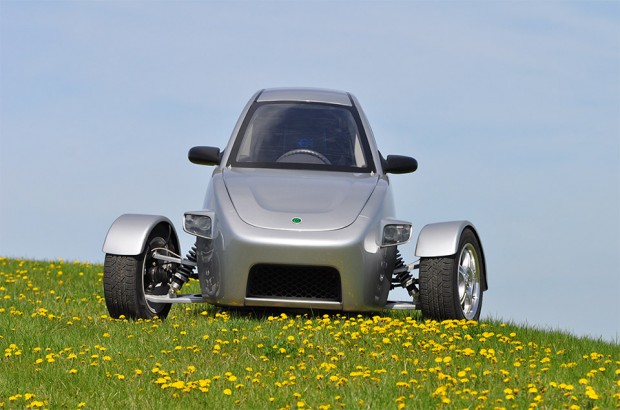 The economy is still on the ropes, so buying  a new car is pretty tough right now. However, don't be too hard on yourself because there's a car out there just for you, well, assuming you're not interested in driving with a passenger.
Thanks to Elio Motors, you won't have to break the bank due to its new three wheel car. It's an unusual looking thing, and as we mentioned above, it comes with a single seat for a single passenger, and that's you, driver. What's awesome about this car is that it gets 84 miles per gallon on the highway, 49 miles per gallon in the city at 100 MPH, which is pretty impressive in our eyes. Especially when you consider that the car really isn't that small — it is roughly the size of a Cadillac in length.
Furthermore, this single seat car only consumers 1/3 of gas when compared to an ordinary car, and it will only cost you a decent $6,800 (USD). Can you beat that? Most likely not.
For folks in the USA, you'll be happy to know that's where the car is manufactured. The company believes that it will create 1,500 jobs at its Shreveport, LA plant alone beginning in 2014. Cheaper cars that burn less gas and more job for Americans; it's a win-win situation.
Hopefully Elio Motors is able to stick around for a while, because these cars have the capability to impact the automotive industry in a big way. Unfortunately, though, it isn't clear when Elio Motors will start actually selling this car; currently you can reserve one though.
[via This is Why I'm Broke]
Related Posts