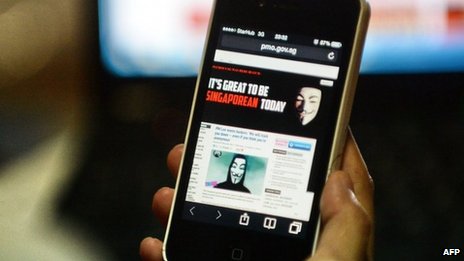 Lee Hsien Loong, Singapore's Prime Minister, had recently made comments about finding a member of the group known as Anonymous, after some of them threatened to hack government owned websites in a video, and because of this they hacked into the Prime Minister's own website.
No real damage was done to his site, though there did appear an image of a person in a Guy Fawkes' mask, which is the image the group is probably best known for, and it had the words "It's great to be Singaporean today" posted as well.
The genesis of these events lie in a move by Singapore' Media Development Authority, which they made a few months ago in July, that would require anyone who reported on news in Singapore online, and had a significant readership among those in Singapore, to apply for a license to be able to do their reporting.
In response to this move, Anonymous released their video condemning Singapore and saying they would take action if they continued along this path. The video can be viewed here.
The Prime Minister bristled at this declaration and made comments about "tracking down the culprits. He also that, "if we can find him, we will bring him to justice and he will be dealt with severely. You may think you're anonymous but we will make that extra effort to find out who you are.
Whether the Prime Minister is biting off more than he can chew here remains to be seen. Anonymous is a collection of people, bound together and joined by people who simply want to be part of the group. If you want to be in, you're in, they claim no central leadership.
[via BBC News]
Related Posts