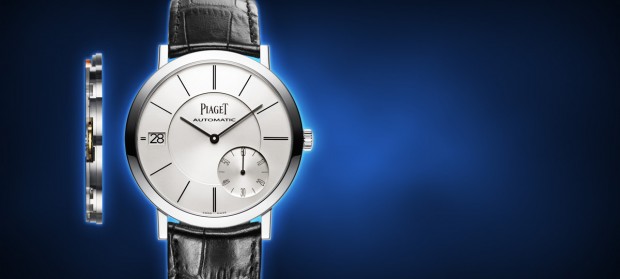 If you have between $20,000 and $30,000, you'll be able to afford the world's thinnest mechanical watch when it goes on sale. The watch is known as the Piaget Altiplano 900P, and it is reportedly 3.65mm, which is 0.04mm thinner than the previous record holder, the Jaeger-LeCoultre Master Ultra-Thin Jubilee. To kit the price up to the over $20,000 mark, Piaget's new Altiplano 900P will come rocking 18-karat white gold with a black alligator strap.
Piaget has been creating thin watches like this one since 1957. But what makes this particular thin watch unique is the Altiplano 900P's clockwork movement, which Piaget managed to integrate into the watch's case for the first time. This is what enables the watch to be so thin, however, if thinnest is your main reason for purchasing a watch, then this will not do you justice. You'll need to seek out digital watches that are up to 3 times thinner than the Piaget Altiplano 900P; I kid you not.
We like the overall design and style of the Altiplano 900P. While some people are optioning for digital wrist watches, we believe there's nothing better than a mechanical watch unless it's a digital watch that shoot lasers and is capable of calling in an assault helicopter.
[via Piaget]
Related Posts