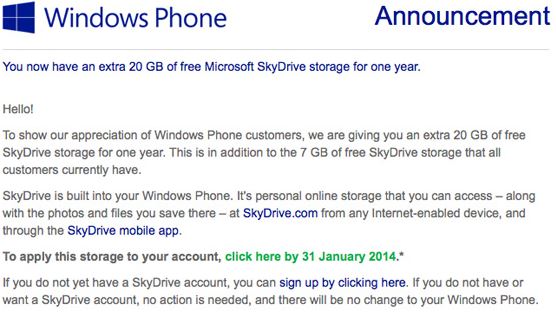 Those with a Windows Phone device may have woken up to a treat this morning. All Windows Phone device owners are eligible to get 20GB of free storage on SkyDrive for one year. All they have to do is follow the link to activate their offer. No credit card information is requested. You have a limited time to accept the offer.
The offer is good until January 31, 2014. The offer is in addition to what is already in your SkyDrive account. All free accounts already have 7GB of storage. So, if you accept the additional 20GB, you have a total of 27GB of storage. If you have a paid account with more storage, the 20GB will still be tacked on to what you already have.
Microsoft is rolling out the service as part of a promotion they ran with their Surface tablets. If you own a Windows phone and haven't received your email yet, you will shortly. You must have the email, and use the imbedded link, to accept the offer.
[via Engaget]
Related Posts