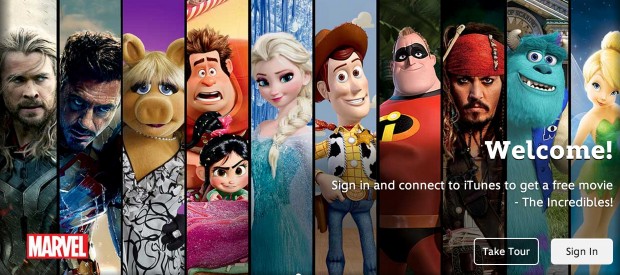 Disney has launched a new app called Disney Anywhere, a streaming app for iOS and the web that will have access to every Disney movie available.
Users will be able to buy Disney movies from their iOS device, as well as through the web. iTunes is also supported, so if a user already owns a Disney movie in iTunes, it will sync with the app and add it to the library. Certain DVDs and Blu-rays will contain special codes that can be redeemed for a digital copy too.
Disney Anywhere marks Disney's first serious attempt at digital movies, after the company refused to partner up with UltraViolet. To mark the occasion and promote the new service, the company is giving away a free copy of The Incredibles to anyone that activates the app and links it with their iTunes account — a pretty good deal if you ask me.
Now that Disney fans can build a digital library of their favorite movies and view them on their iOS device or computer, hopefully Disney will follow it up with an Android version. If you'd like to check out Disney Anywhere, you can go to the official website at the link below:
[via The Verge]
Related Posts