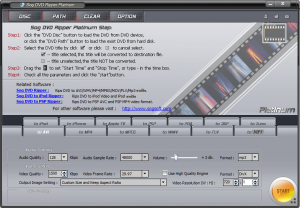 Thanks for dotTech's Free Advertising Initiative, dotTech has been able to bring dotTechies multiple commercial software for free. This post is about another such offering. This time we have teamed up SogSoft Inc. to bring you Sog DVD Ripper Platinum for free!
Sog DVD Ripper Platinum is a professional DVD ripper that allows users to rip DVDs to multiple different video formats. However, the highlight of Sog DVD Ripper Platinum is not that it can do DVD -> other format conversions, but rather that it can bypass DRM protection while doing it. (Public service reminder: Please only use DVD rippers – such as Sog DVD Ripper Platinum – for activities that are legal.) Here is a chart that sums up the jist of what Sog DVD Ripper Platinum supports: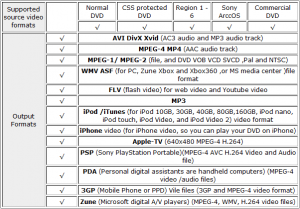 Now at this point I am sure most dotTechies are thinking "Okay, but who is this SogSoft – I have never heard of them before?" Sure some dotTechies may not have heard of SogSoft in the past, but I am sure many dotTechies have heard of WinX DVD Ripper Platinum. A little bit of digging and research reveals that Sog DVD Ripper Platinum and WinX DVD Ripper Platinum are one in the same; both are sourced from Freetime Software Inc. which is the former name of Digiarty Software Inc. the developer of WinX DVD Ripper Platinum. To add icing to the cake, this promotion includes free updates and free technical support from SogSoft.
So, to get Sog DVD Ripper Platinum for free, follow these simple directions:
Version being given away for free: v5.0 Build 20080627

Free updates: Yes

Supported OS: Windows 98/NT/2000/XP/Windows 2003/Vista/Win7
Update: Kaspersky and a-squared are picking up Sog DVD Ripper Platinum as a trojan. As far as I know, Sog DVD Ripper Platinum is safe and these are false positive readings (see VirusTotal scan results and SiteAdvisor rating). If someone has any information that says otherwise, please do say.
Install Sog DVD Ripper Platinum.
After installation, register Sog DVD Ripper Platinum with the following registration information:
regname name: dotTech User
regcode: Sog-3150-5151-7795

Note: This promotion is available to everyone – everyone may get it for free. However, this is a dotTech.org promotion. Please do not copy, paste, or reprint this registration information anywhere else including private or public forums, blogs, file hosting services, etc. If you want to spread information about this offer, you may link to this article by providing a permalink (alternative link) to your audience.
If you have trouble taking advantage of this offer, please post below and I will try to help. Remember you can also contact SogSoft technical support for assistance.
Related Posts