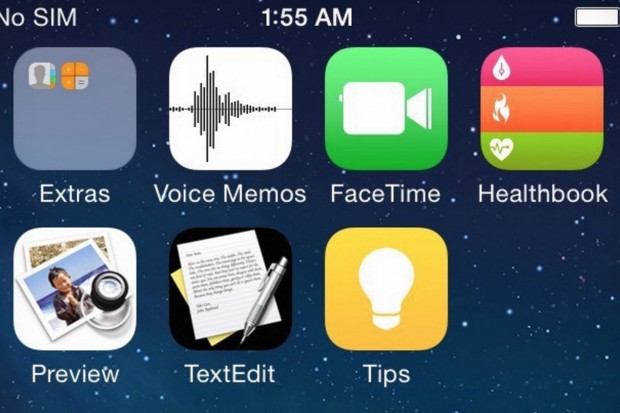 Apple's next version of iOS, which will undoubtedly be called iOS 8, is both unreleased and unannounced. But despite being months away from actually being unveiled, a Sina Weibo account managed to post many claim to be legitimate shots of iOS 8 in progress.
The oft-rumored Healthbook app makes an appearance in the image,which will theoretically be linked to the also rumored Apple smartwatch. Preview and TextEdit are apps that OS X will be familiar with but 9To5Mac claims that they won't be the full version of these apps. In OS X, Preview is used for opening PDFs and other image files, as well as simple editing and annotation. TextEdit is a fairly basic text app. The iOS 8 versions of these apps, the site claims, will be used as document viewers for files stored in iCloud. It's unclear what the Tips app might be at the moment. Also, while the Tips and Healthbook apps look like they have finished icons, Preview and TextEdit are clearly works-in-progress: the icons are the OS X icons placed in front of white and black backgrounds.
Because we're many months away from actually seeing iOS 8, there's a very good chance that all this might change. And of course, it could also be fake. But it does turn out to be real, it suggests that iOS and OS X will have even more similar functionality.
[via 9To5Mac]
Related Posts