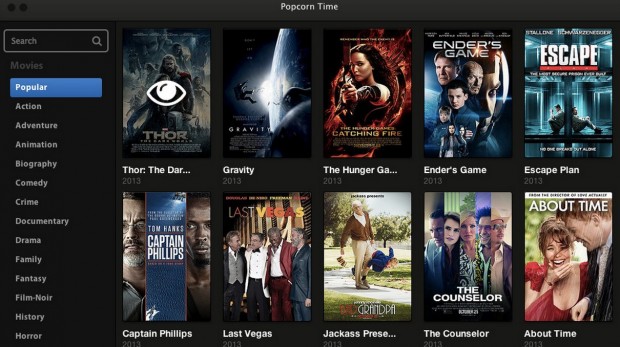 After being released last week, streaming service Popcorn Time promptly shut itself down last Saturday. Unlike Netflix or other similar services, Popcorn Time used BitTorrent movies as its backend. The result was an impressive catalogue and unsurprisingly, an open door to legal threats and copyright issues:
Our experiment has put us at the doors of endless debates about piracy and copyright, legal threats and the shady machinery that makes us feel in danger for doing what we love. And that's not a battle we want a place in.
Shortly after shutting down, BitTorrent website YTS, formerly known as YIFY, announced that their team would be taking on the project:
"The YTS team will now be picking up the Popcorn Time project and continuing on like previously. We are in a better position copyright wise as for us, because it's build on our API, it's as if we have built another interface to our website. We are no worse off managing the project than we would be just supplying the movies,"

"It's our vision at YTS that we see through projects like these and that just because they create a little stir in the public, it doesn't mean they are shut down. That stir is exactly what the public needs and it's already evident that people are becoming more aware of copyright-related issues."
Beta builds of Popcorn Time for Windows, OS X and Linux are now being posted over at Github. YIFY and now YTS has been around for quite some time, supplying ripped movies on its website. Whether or not Popcorn Time will introduce new problems for their team and website remains to be seen. But for now, Popcorn Time fans can rejoice — it's back.
[via TorrentFreak]
Related Posts