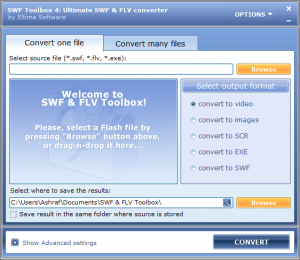 Update: This promotion has now ended.
Second in the list of promised free software is Eltima SWF & FLV Toolbox. Hence, today dotTech is teaming up with Eltima Software to bring everyone Eltima SWF & FLV Toolbox ($55.95 value) for free!
For those that don't know, Eltima SWF & FLV Toolbox is a software that specializes in converting Flash files (.SWF, .FLV, and .EXE) to other formats. Here is the full features list as per the developer: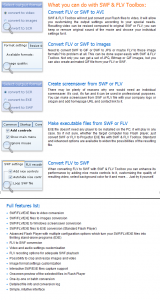 Now some of you may be thinking "but I already have a video converter, so why do I need this?" Well, the answer to that is simple: most video converters you have will do FLV -> other format conversions, but most video converters do not allow you to do SWF -> other format or EXE -> other format conversions. Conversion of SWF/EXE Flash files is a bit tricky and different than conversion of other video formats, so most video converters don't bother to add in that capability; hence the need for a specialized converter.
That said, dotTechies have the chance to get Eltima SWF & FLV Toolbox for free! This promotion is open for 24 hours – from 00:00 May 14, 2010 to 24:00 May 14,2010 – and you must install and register the software within these 24 hours because you will not be able to take advantage of this freebie at a later date (even if you keep the installation file).
To get Eltima SWF & FLV Toolbox for free, follow these simple steps:
Version being given out for free: v4.0.0.440

Free updates: Yes


Supported OS: Windows XP and higher

Download size: 10.9 MB

[REMOVED – The promo is over.] and install Eltima SWF & FLV Toolbox.
Note: This promotion is available to everyone – everyone may get it for free. However, this is a dotTech.org promotion. Please do not upload the installer file to any other website, server, file hosting services, etc. and please do not directly link to the download. If you want to spread information about this offer, you may link to this article by providing a permalink (alternative link) to your audience.
During installation, you will be prompted to grab your activation code and register the software. You need to enter your name and e-mail address so you can receive the activation code: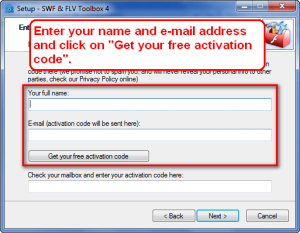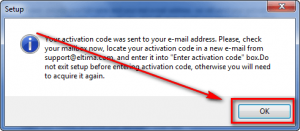 Check the inbox of the e-mail address you entered. There will be an e-mail from "Eltima Software (serveradmin@sync-mac.com)" with the subject of "Free SWF & FLV Toolbox license?". In the e-mail you will find your activation code:

Copy the activation code and paste it in the activation code box located at the program installer window:

Update: Please note that you must grab the activation code and register/install the software at one time. If you grab the activation code, cancel installation, and go back to install the software with the activation code you got earlier, you will receive an "ERROR: cannot proceed without activation!" message. If this happens to you, enter your name and e-mail address again (you may use the same e-mail address) and grab another activation code; use that new activation code to register/install SWF & FLV Toolbox.
Finish installing.
Enjoy!
If you have trouble getting Eltima SWF & FLV Toolbox for free, post below and I will try to help.
Related Posts