Software Description
The following is a description of Ocster Backup Pro 6 features as per the developer:
Features

Fully Automatic: Creates fully automatic backups of your data
Easy to use
Fast backup speed
Includes alternative backup format: 1 : 1 File Copy – simple mirroring of files to other media
Internet Explorer bookmarks
Mozilla Firefox: Backs up bookmarks, settings and add-ons
Mozilla Thunderbird: Backup emails, calenders, settings and add-ons
Windows contacts: Backup the Windows Contacts folder.
"New Backup-Rules" More choice with extended filtering capabilities
Versioning: Easily access and restore different older versions of your files.
Automatic Pausing: Backups are done in the background and are automatically paused to prevent them from slowing down other programs. Various system characteristics are monitored, e.g. CPU usage, I/O usage, fullscreen applications, etc.
Outlook/Thunderbird Support: Back up your Microsoft Outlook/Thunderbird emails and calendars with a single mouse click.
Stop & Resume: Backups can be stopped and resumed. This is handy when the computer needs to be shut down, for example.
Backup Reports: Detailed backup reports can be generated each time the backup is updated. The contents of the reports can be configured.
Backup Report Emails: Backup reports can be automatically sent to an email address. That way you can be up-to-date on the state of your backups even when you are on a business trip or if the computer is simply a server in your attic.
Network support: Files and folders on network drives can also be backed up. The backup data can also be stored on network drives if that is desired.
Encryption: Backups are strongly encrypted and protected with a user password. The encryption algorithm can be configured, if that is desired.
Compression: Backups are compressed intelligently to save space. Different compression types are available: from fast ones with moderate compression to slower ones with excellent compression.
Scheduled: Backups can be started either automatically at scheduled times or manually by clicking a button.
Storage Types: Backups can be stored on hard disk, USB sticks, network drives and Ocster Secure Storage.
Supports Ocster Secure Storage:

Stores the files in professional data centers
Much safer than using hard disks or USB sticks
The backups are protected against fire, water damage, lightning, theft, hurricanes, …
Multiple copies are kept in different locations
The data is transmitted to the data centers via a highly secured internet channel
Available for a small subscription fee.

Incremental backup: after an initial full backup only the changes to the previous state are stored. This saves space and reduces transfer times.
Open File Support: Files and folders that are in use can be backed up as well.
Hard Link and Symbolic Link Support: Hard links and symbolic links can be backed up and are properly restored as hard links and symbolic links.
Special Files: Compressed, encrypted and sparse files can also be backed up.
Encryption Algorithms: Backup can be encrypted the following algithms: AES 256 Bit, AES 128 Bit, BlowFish, Cast-128
Compression Algorithms: The software supports the following compression types: ZLib, LZMA Quick, LZMA Normal, LZMA Best
Small File Optimization: Through smart uses of compression the software can achieve high compression rates, even with many small files.
dotTech Advice
dotTech has reviewed Ocster Backup Pro 5, Ocster Backup Pro 4, and Ocster Backup Pro 3 in the past. Ocster Backup Pro 6 is definitely an improvement over all the previous versions; it has more features and cleans up on some bugs. For example, this new v6 has better integrated capabilities for easily backing up data for third party programs, like Internet Explorer, Firefox, and Thunderbird; it comes with a new 1:1 copy feature; the developer has made improvements to its exclusion filter; and all the password related bugs in v4 are no longer there. However, I still wouldn't recommend Ocster Backup Pro 6. That is not to say it is a bad program; it isn't. Rather, I feel the developer is still trying to write sentences before learning the ABCs. For example, users are still limited to only conducting incremental backups (aside from the first initial one which is a full backup), automatic scheduling is still limited to only a daily or weekly schedule (no custom dates, biweekly, etc.), and the backups are still stored in proprietary format (unless you do the 1:1 file copy, in which case there is no compression). Similarly, the "Versioning" feature issue I mentioned in my review on v5 (i.e. it does not work if backing up files on the same day) is still there.
That said, if you are using an older version of Ocster Backup Pro, you should definitely upgrade to v6 – it is better than previous versions. Similarly, if you are already using a backup program and are not happy with it, you can give Ocster Backup Pro 6 a try to see if it fits your needs, as long as you realize and understand you will be facing the issues I mentioned above and in my reviews. However, if you are not tied down with Ocster Backup Pro and are open to using other programs, there are better file backup program available in my opinion – GFI Backup just to name one.
Freebie Details
Version being given out for free: v6.05

Free updates: Unknown

Supported OS: Windows XP and higher

Download size: 20.6 MB
Visit the promotion page and click on Zum Download to download Ocster Backup Pro 6:



After Ocster Backup Pro 6 has finished downloading, install it. (The installer and program are in English.)
After installation, run Ocster Backup Pro 6. You should be promoted to register the program. Click on Register for Free:
After you click on Register for Free, the registration page should open in your default Internet browser; fill out the short form: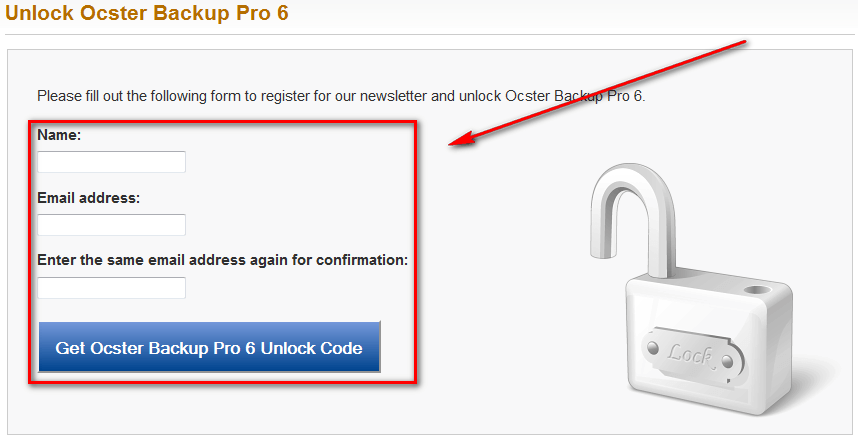 If you do it properly, you should get a confirmation message:
Check the inbox of the e-mail address you registered with. Look for an e-mail from Ocster (support@ocstermail.com) with the subject of Unlocking Ocster Backup Pro 6?. In the e-mail there will be a link you need to follow to confirm your registration: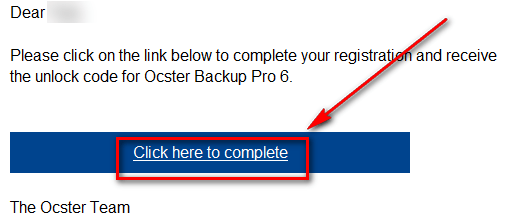 After you click on the link (or copy + paste it in your browser) you will be shown your registration code at the page that loads: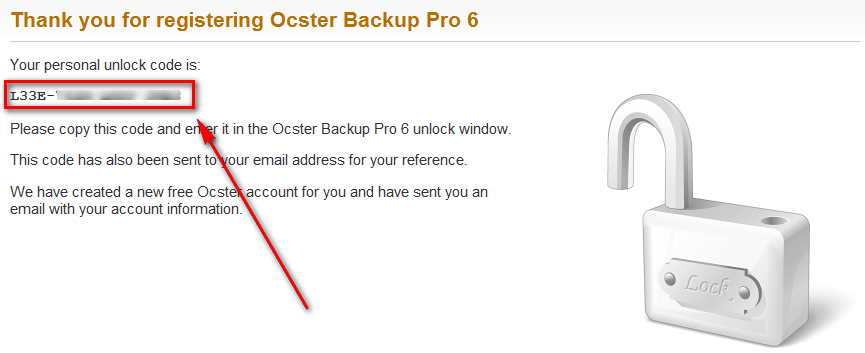 Go back to Ocster Backup Pro 6 and enter the unlock code you received: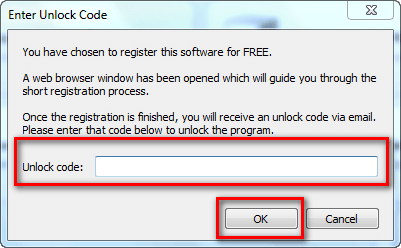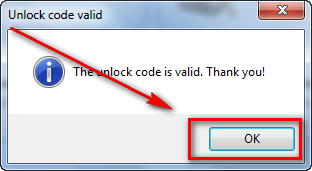 If you have any trouble getting Ocster Backup Pro 6 for free, post below and other dotTechies or I will try to help.
Related Posts