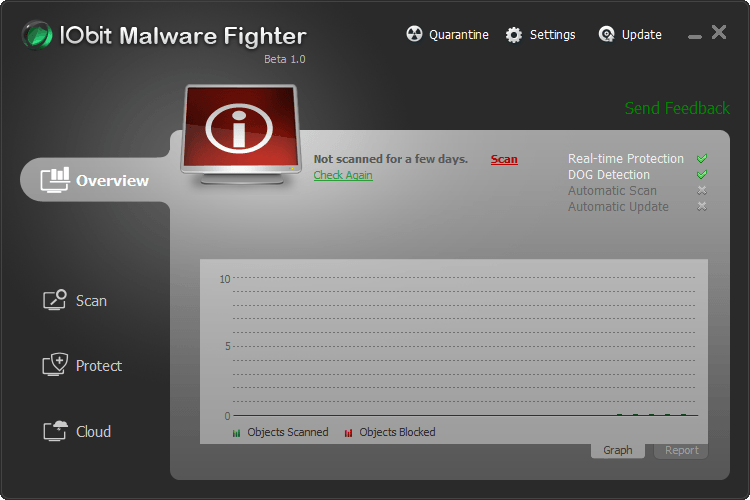 IObit has been a small, yet popular name in the software industry thanks to their Advanced SystemCare product line; and for good reason: Advanced SystemCare – which comes in a Free and Pro version – is a very handy system utility. IObit, of course, has built upon their ASC-inspired success and have expanded their product offerings to numerous other software such as Game Booster, IObit Toolbox, and IObit Advanced Uninstaller. Another one of IObit's offerings is IObit Security 360, an anti-malware program that also comes in Free and Pro editions. When it first came out, Security 360 received rave reviews from pretty much everyone because it performed fairly well, terms of protection; performed, as in past tense, is the key word here.
A few months after IObit Security 360 was released, it came to light that IObit allegedly used the malware signature database of Malwarebytes – without their permission – in Security 360. Now I say "allegedly" because it hasn't been proved with 100% certainty that IObit did indeed do as they are accused of nor have they been found guilty in a court of law; and chances of them ever having to stand trial regarding this matter is slim to none since they are based in China while Malwarebytes is based in the USA – cross-country trials never, if ever, happen. However it must be said the evidence was (is) heavily lopsided in Malwarebytes' favor.
Although IObit continued to claim innocence in this whole fiasco, after the accusations came to light Security 360 users started reporting that the signature database of Security 360 was drastically made smaller; and subsequently Malwarebytes claimed they "won" saying IObit removed Malwarebytes signatures from Security 360. Since that moment IObit Security 360 has no longer received the press that it initially did. Maybe it is because no major publication wants to be found praising IObit Security 360 after they allegedly stole the intellectual property of Malwarebytes; or maybe it is because Security 360 is not nearly as good of a program as it was with Malwarebytes' database. Whatever the case may be, it is safe to say IObit Security 360 looked to be a promising tool that fell flat on its face. Now IObit is once again trying their hand at providing an anti-malware solution; this time in the form of IObit Malware Fighter.
IObit Malware Fighter – currently in beta – is an anti-malware program that combines multiple different live protection modules ("guards") with cloud technology to protect users from scumware: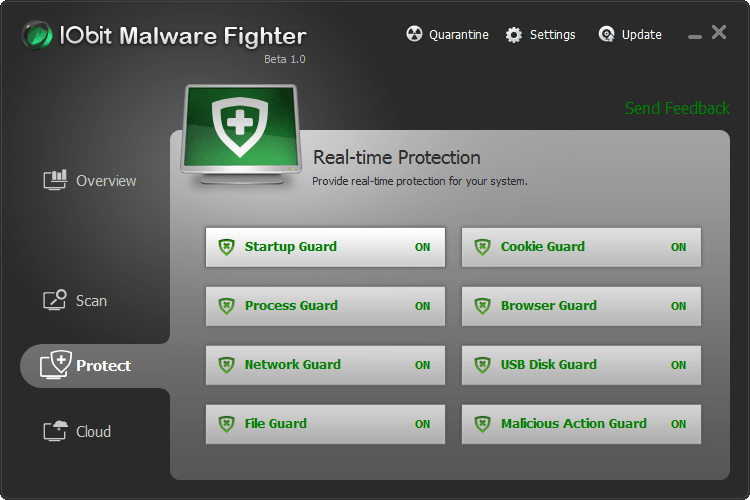 Malware Fighter also has a new heuristics engine IObit has dubbed "DOG":

Furthermore Malware Fighter allows users to conduct three different types of scans – Smart, Full, and Custom: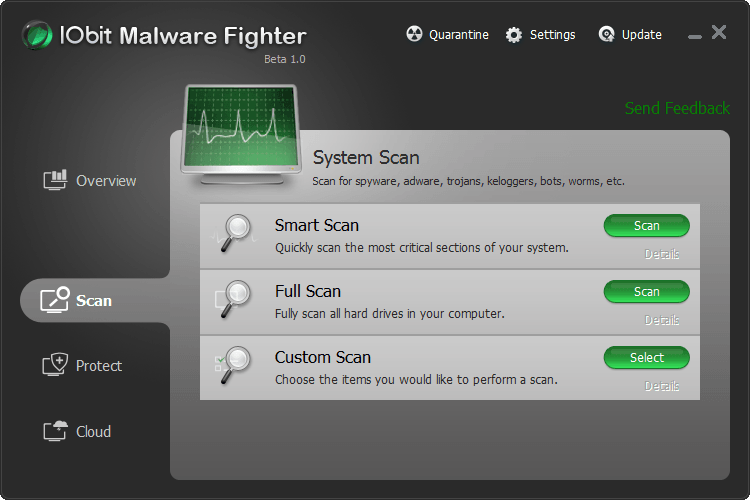 The features of IObit Malware Fighter look good on paper, but only time will tell if it turns out to be a good, legit anti-malware program or another flop. Since I don't currently don't  have any malware-outfitted machine, I cannot test to see how well Malware Fighter performs in regards to detection rates. I did, however, conduct a full scan with Malware Fighter (everything at default settings, which includes ignoring files over 10 MB and fully scanning the contents of .ZIP and .RAR files) to see how fast it scans, how many computer resources it uses, etc.
It took over two hours to scan around 46 GB of data. During the scan, CPU usage was all over the place but typically stayed in two distinct ranges depending on what type of file was being scanned: 25-35% and 40-50%; RAM usage was fairly constant at around 52 MB for most of the scan but raised to 68 MB towards the end. The computer resource usage during scans is fairly typical of full system scans, but the scan time is slower – quite a bit slower – than what I typically see with other programs. (For what it is worth, nothing was detected by Malware Fighter but I recently just did a format so there is nothing to be found.)
Another thing I noticed is Malware Fighter uses around 50 MB while sitting idle in the background. This isn't peak RAM usage I am talking about. I am talking about running Malware Fighter and its starts at around 50 MB, which is bound to fluctuate as it continues to protect you. 50 MB is quite a lot for a program that is on all the time, although it should be mentioned Microsoft Security Essentials is just as bad.
As I already mentioned, IObit Malware Fighter is in beta, so if you are going to grab it, only use it for testing purposes and not as your main protection program. It should also be noted there is no information regarding if IObit Malware Fighter will be freeware or shareware, but considering IObit's business model, it will probably have Free and Pro versions. You can grab IObit Malware Fighter from the following links:
Version reviewed: Beta 1.0

Supported OS: Windows XP and higher

Download size: 10.3 MB
[via Ghacks]
Related Posts