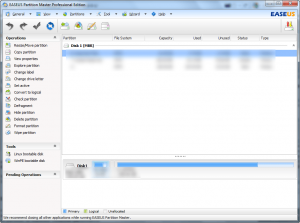 EASEUS Partition Master Professional is a dotTech favorite; it has been featured many times on dotTech – either as part of a review or giveaway – and is loved by all dotTechies. Now, dotTechies can EASEUS Partition Master Professional (v8.0.1 – the latest version) for free!
Software Description
The following is a description of EASEUS Partition Master Professional as per the developer:
As Partition Magic alternative, EASEUS Partition Master Professional Edition is an ALL-IN-ONE partition solution and disk management utility. It allows you to extend partition, especially for system drive, settle low disk space problem, manage disk space easily on MBR and GUID partition table (GPT) disk under 32 bit and 64 bit Windows 2000/XP/Vista/Windows 7(SP1 included). The most popular hard disk management functions are brought together with powerful data protection including: Partition Manager, Disk & Partition Copy Wizard and Partition Recovery Wizard. Moreover, you can create bootable CD/DVD in case of system boot failure.

Top Benefits:

Built-in WinPE 3.0 based bootable disk or Linux based one.
Convert dynamic disk to basic disk easily with all data protected.
Extend system partition to maximize computer performance.
Partition Manager utility for better hard disk management and computer performance maximization.
Copy Wizard to copy partition or migrate entire hard disk to another without Windows system reinstallation.
Main Features:

Partition Manager

Extend NTFS system partition without reboot to maximize PC performance.
Resize/Move partitions with faster algorithm to avoid data loss for better disk space management.
Merge partitions into a bigger one.
Split partition for different usages.
Support removable storage device partitioning.
Redistribute free space.
Convert dynamic disk to basic disk.
Convert primary partition to logical.
Convert logical partition to primary.
Support GPT disk partitioning.
Create multiple-partitions: one for system and others for data, etc.
Convert FAT to NTFS file system.
Delete partition and Wipe partition to destroy data.
Rebuild MBR to boot system again.
Speed up your computer by defragmentation.
Permanently wipes sensitive data on disk by wiping disk.
Disk surface test to check and find bad sectors.
Linux partition management: delete, create, format, recover EXT2/EXT3 partition, etc.
Drag & drop mouse to repartition easily in disk map.
Support Windows 2000/XP/Vista/Windows 7 SP1 (32 bit & 64 bit).
Built-in WinPE 3.0 based bootable CD/DVD or Linux based bootable CD/DVD!
Support all hardware RAID.
Support hard disk from 2 GB to 4 TB.

Disk & Partition Copy Wizard

Copy partition with fast file-by-file copy to protect your data.
Copy entire hard disk to another without Windows system reinstallation.
Safely copy dynamic volume to basic disk and resize the basic disk, etc.
Support GPT disk/partition copy.

Partition Recovery Wizard

Recover deleted or lost partitions
Recover lost partitions after repartitioned hard drive
dotTech Advice
EASEUS Partiton Master Professional is one of the best partition management tools out there. I don't know what else to say except that I highly recommend this software to those that want or need it.
Freebie Details
For a limited time dotTechies can get EASEUS Partition Master Professional for free! This freebie is fully functional (has all the features mentioned above) except for one: It does not come with the WinPE bootable disk. It does, however, come with the Linux bootable disk.
This promotion will be available for the next few days (EASEUS and I have not set a "hard" deadline when this will end, yet, so download it while you still can). It does not come with free updates, but once you download it you can install/reinstall it whenever you want.
To get EASEUS Partition Master Professional for free, simply download and install it from the links below. The program comes "pre-registered" so there is no need to register it.
Version being given out for free: v8.0.1
Free updates: No
Supported OS: Windows 2000/XP/Vista/Win7 (32-bit) and Windows XP/Vista/Win7 (64-bit)
Download size: About 45 MB
Giveaway time-frame: This giveaway is available for a limited time. After this giveaway is over, you will not be able to grab EASEUS Partition Master Professional for free from dotTech. You can, however, install/reinstall the program whenever you want if you download it during the giveaway time-frame.
Note: This promotion is available to everyone – everyone may get it for free. However, this is a dotTech.org promotion. Please do not upload the installation file to any other website, server, file hosting services, etc. and please do not directly link to the download. If you want to spread information about this offer, you may link to this article by providing a permalink (alternative permalink) to your audience. If you respect our wishes, we will be able to continue to bring you great freebies. If you don't, we have no incentive to continue our promotions and they may stop.
[EASEUS Partition Master Professional Edition v8.0.1 Giveaway Download Link]
[Download Mirror 1]
[Download Mirror 2]
Related Posts