Update2: If you are ready to remove Windows 7, feel free to read out How to remove or 'uninstall' Windows 7 guide to help you on your way.
Update: Windows 7 Beta is now officially up! You can read the download guide here. There is no further need of this post since you can get Windows 7 Beta directly from Windows 7's website. However you are still welcome to read this.
Now if you know the internet community one bit, you know we don't like to wait. So as the hours passed, we got more desperate as Microsoft delayed the release of Windows 7 Beta to 'add more servers'. Desperation made us become innovative. One thing lead to another and here we are with a method that will enable you download Windows 7 Beta and get a product key while you are at it. Thank you to the people at  SlickDeals for putting this together:
Download links to Windows 7 Beta are working. They are slow and unstable, but they are working:
Size: 2.43 GB (2,618,793,984 bytes)
MD5: F9DCE6EBD0A63930B44D8AE802B63825
SHA-1: 6071184282B2156FF61CDC5260545C078CCA31EE
Size: 3.15 GB (3,387,009,024 bytes)
CRC32: 8E2FAD39
MD5: 773FC9CC60338C612AF716A2A14F177D
SHA-1: E09FDBC1CB3A92CF6CC872040FDAF65553AB62A5
Note if you are in Chrome and you try to use the above links they will not work. Load FireFox or Internet Explorer – I learned from experience.
You can also download the 32-bit version via this torrent. But the torrent is not any faster, in fact it is slower, then the download from Microsoft's website… at least for me. Download it yourself to confirm the speed. Also be warned that some torrents may be malicious although the one I linked seems to be legit. Download at your own risk.
After you have downloaded the files, use this program to check of ISO integrity (i.e. the ISO downloaded correctly). Just click + drag the ISO onto md5sum.exe. The program will check it and display the MD5 value for you. You know your file has downloaded correctly if
a) The file size matches the size mentioned above

b) The MD5 value shown by MD5sums 1.2 matches the MD5 value mentioned above.
If you are not able to attain a product key for Windows 7 Beta you can still run it for 30 days trial – just leave the "product key" field blank when installing Windows 7 Beta. You can also extend the 30 day trial to 120 days: according to this website "by using the same "slmgr -rearm" command that gained notoriety after Windows Vista's debut, users can extend that trial period to a total of 120 days."
Now officially Microsoft is having problems giving out product keys. However, there is a clever workaround. Well not clever. More like brute force:
Install Firefox.
Install the Check4Change plugin.
Start Firefox.
Go to Tools -> Options -> Privacy -> Private Data -> Settings. Make sure "Cookies" is checked. Then hit "Clear now".
Restart Firefox.
Open https://login.live.com in a new tab and log in. When you page is fully loaded and looks like the following, move on to the next step: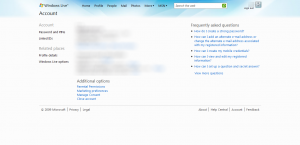 Open https://profile.microsoft.com in another new tab and let the whole page load. Once your page looks like the following, move onto the next step: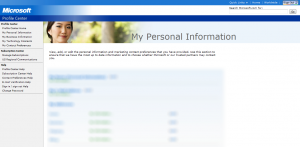 Open a new tab and copy and paste the following into the URL into the new tab and hit enter**:
https://www.microsoft.com/betaexperience/productkeys/win7-64/enus/default.aspx
At this point if you see a page that lists a product key for you, consider your self lucky – you got it on the first try. You can stop reading here and rejoice. However, for the rest of us, you should see this page:
If you see any other page, including Microsoft Search or the Windows 7 page that means something went wrong, . Close this tab and reopen

https://www.microsoft.com/betaexperience/productkeys/win7-64/enus/default.aspx

in a new tab. Keep doing this until you see that error page.
Highlight "Error", Right Click -> Check4Change -> Custom: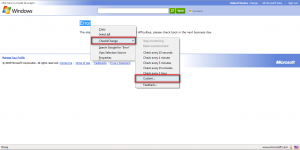 In the window that pops up, enter "3" for "Refresh and check every" and check "Apply Randomization" and enter "2" for "change by". Hit ok: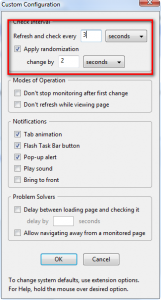 Sit back and relax. The page will keep refreshing until you get a page that looks like this:
You don't have to stare at this tab the whole time because once the page changes into the above, Check2Change will prompt you via a little pop up window in the bottom right of your FireFox window. Once you get this page and you get your product key, you are done. Remember to copy down the product key! After that, just wait for your download to finish and you are good to go.

If at all during the time you set Check4Change to refresh the error page you get redirected to another page, such as Microsoft Search, before you get to the product key page, you will have to clear your cookies, close FireFox and start this process all over again.

Also note that you can have multiple tabs of the error page refreshing at one time. For example, you have your live.com tab open, your profile.micrsoft.com tab open and then you have ten tabs refreshing the error page to get the product key. It will work with multiple tabs. And if you are lucky you may get more then one product key.
**The link is to the 64-bit key. The reason it was 64-bit because people have found out this method works faster with the 64-bit key link. You can use the 32-bit key link if you want:
https://www.microsoft.com/betaexperience/productkeys/win7-32/enus/default.aspx
However, I suggest you stick with the 64-bit key link because you will be able to use a 64-bit key to register a 32-bit version of Windows 7.
I have personal experience with the method above, and I can confirm it works. It took me about 2 hours for my key to appear, but appear it did. Good luck.
NOTE: There is a known MP3 issue with Windows 7 Beta. When you load your MP3s in Windows 7 Beta with a Microsoft utility such as Windows Media player, some seconds may be cut out. Be sure to backup your MP3s before using them on Windows 7 Beta! To fix this issue, download Microsoft update KB961367.
Related Posts