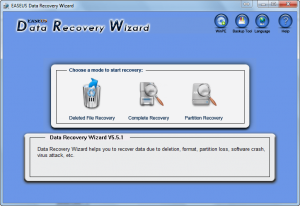 Update: This promotion is now over. Sorry to those that missed it! To avoid missing promotions in the future, consider subscribing to dotTech: RSS Feed | E-mail | Twitter | Facebook.
Earlier this week dotTech and EaseUS teamed up to bring everyone EaseUS Partition Master Professional for free. Well we are at it again, this time featuring EaseUS Data Recovery Wizard (v5.5.1 – the latest version)!
Software Description
The following is a description of EaseUS Data Recovery Wizard, as per the developer:
Advanced and Best data recovery software to do format recovery, unformat and recover deleted files emptied from Recycle Bin or lost data due to partition loss or damage, software crash, virus infection, unexpected shutdown or any other unknown reasons under Windows 2000/XP/Vista/2003/2008 R2 SP1/Windows 7 SP1. It will do an amazing job when the data loss disaster strikes, especially when you want to recover data from formatted drive. Data Recovery Wizard supports hardware RAID and hard drive, USB drive, SD card, memory card, etc. It provides the comprehensive data recovery solution for computer users to recover lost data.
The following chart, created by the developer, provides detailed information about the features of EaseUS Data Recovery Wizard and also compares and contrasts the feature differences between the different editions of the program (today's freebie is the "Standard" version shown in the chart):
(Click on the chart above to enlarge it.)
dotTech Advice
I am huge fan of EaseUS Partition Master; EaseUS Data Recovery Wizard… not so much. It isn't that EaseUS Data Recovery Wizard is a "bad" program; it isn't "bad". If I were to rank EaseUS Data Recovery Wizard in terms of quality, I would say it falls in the middle of the pack: I have used better recovery software and I have used worse. (More detail on the quality of EaseUS Data Recovery Wizard can be found in my full review.) My biggest problem with EaseUS Data Recovery Wizard is that it is overpriced, in my opinion. Of course for the purposes of this freebie price is a non-issue but nonetheless I feel paying $69.95 for a data recovery program that does not even have a bootable/recovery disk capability is asking a bit much. (EaseUS Data Recovery Wizard, i.e. this freebie, does not come with WinPE. A different edition of EaseUS Data Recovery Wizard has WinPE.)
All in all, as a general rule of thumb it is always handy to have multiple data recovery software on-hand because each data recovery software may find something slightly different depending on how the program has been coded. So I say grab this freebie while it is available and keep it with you in case the time ever arrives that you need it.
Freebie Details
For the next 48-hours, dotTechies can get EaseUS Data Recovery Wizard for free! Keep in mind this version of EaseUS Data Recovery Wizard does not come with WinPE.
This freebie does not come with free updates, but once you download it you can install/reinstall it whenever you want.
To get EaseUS Data Recovery Wizard for free, simply download and install it from the links below. The program comes "pre-registered" so there is no need to register it.
Version being given out for free: v5.5.1
Free updates: No
Supported OS: Windows 2000/XP/Vista/Windows 7 SP1 and Windows Server 2000/2003/2008 R2 SP1
Download size: About 6 MB
Giveaway time-frame: This giveaway is available until August 20, 2011 24:00 PST. After this giveaway is over, you will not be able to grab EaseUS Data Recovery Wizard for free from dotTech. You can, however, install/reinstall the program whenever you want if you download it during the giveaway time-frame.
Note: This promotion is available to everyone – everyone may get it for free. However, this is a dotTech.org promotion. Please do not upload the installation file to any other website, server, file hosting services, etc. and please do not directly link to the download. If you want to spread information about this offer, you may link to this article by providing a permalink (alternative permalink) to your audience. If you respect our wishes, we will be able to continue to bring you great freebies. If you don't, we have no incentive to continue our promotions and they may stop.
[EaseUS Data Recovery Wizard v5.5.1 Download Link]
[Download Mirror 1]
Related Posts