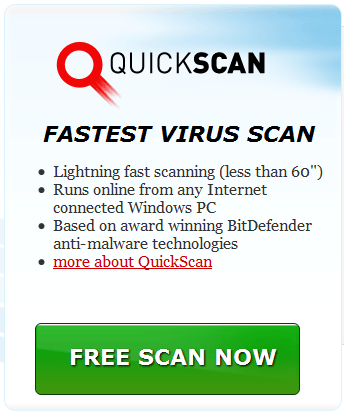 Ever try to use traditional, clunky online malware scanners to try to get a second opinion as to if your computer is clean or infected with malware? I have, and I can attest to the fact that it isn't pretty. While in theory online malware scanners can be useful, in reality online malware scanners are typically nothing more than gimmicks. They are slow and clunky; and often they can only detect – not remove – malware. Indeed, many times in the past I have accidentally closed an online malware scan in-progress because it was taking so long that I forgot about it; other times – when scans did finish – I would feel cheated because I invested so much time into scanning my computer and in the end the scanner could not remove the malware. BitDefender is looking to change that with their QuickScan.
BitDefender QuickScan is a free online malware scanner that leverages the power of the cloud to conduct lightning fast malware scans. How fast are we talking here? Is seven seconds fast enough for you? Yeah, I thought so. While the actual scan time will vary depending from computer to computer and the current load on BitDefender's servers, all the scans I have conducted with BitDefender QuickScan have finished in under two minutes, with the fastest one being seven seconds.
I know what everyone reading this article must be thinking right now: "Scans that fast? It must be a scam!" No, it isn't a scam. There are multiple contributing factors as to why BitDefender QuickScan is so, well, quick:
BitDefender QuickScan does not scan your whole computer. It only scans programs/files in active memory (i.e. currently running programs/files or programs/files that have recently been run) and programs/files that run at Windows startup.
Not all programs/files in active memory and Windows startup list are scanned. Programs/files are filtered by extension, and file types "deemed harmless" are skipped.
QuickScan uses cloud technology to conduct the scanning/detection process:
In a nutshell, QuickScan makes a list of digital fingerprints (or hashes) of the programs that are running and of other critical files. It then sends this list to the server. If the server doesn't recognize a hash, it requests the file to be uploaded so it can be thoroughly analyzed. When the analysis is complete, the server returns a .clean. or .infected verdict for every file in the list.

The first time you run QuickScan on your system it may find a lot of .unknown files, so it's normal for the scan to take longer. After using QuickScan a few times you will notice that it becomes faster and faster. This is because once the server receives and scans a new file, it will subsequently recognize it by its hash and never request it again.
With such a limited scope, BitDefender QuickScan must be useless, right? Wrong. You see the point of BitDefender QuickScan is not to ensure your computer is 100% clean. If you think you can depend on QuickScan to keep your computer malware free, you need to think again. The point of BitDefender QuickScan is to conduct quick, on-the-fly scans that provide a second opinion as to if your computer is infected or not. Obviously since QuickScan only scans in active memory/startup list it does not detect "dormant" malware; it only finds malware that is active at the time of the scan.
That said, it must be noted that BitDefender QuickScan only scans and detects malware – it does not remove it; you need to use your installed security programs to remove any malware that is found. In fact, according to BitDefender, QuickScan does not modify any files on your computer:
Quickscan does not modify or delete any file on your system and only uploads executable files for checking (i.e. NO documents or other data files are sent).
It obviously would be nice to be able to use QuickScan to remove malware in addition to detecting it; however, personally speaking, for scans that literally take less than a minute I don't mind not having removal capabilities.
BitDefender QuickScan works in Internet Explorer, Firefox, and Chrome and using it is as easy as visiting the homepage and clicking the FREE SCAN NOW button; at the end of every scan you are told if your computer is infected or not and you are allowed to view a full report of QuickScan's findings.
The first time you run QuickScan you will need to download an add-on for Firefox and Chrome, while Internet Explorer users will need to download the ActiveX component. After you have the Firefox/Chrome add-on installed, you don't even need to visit the QuickScan homepage anymore – you can run the scanner by clicking on the QuickScan icon in your browser toolbar.
Ready to give BitDefender QuickScan a whirl? You can access it from the following links:
Version reviewed: Firefox add-on v0.9.9.52, Chrome add-on v0.9.9.63, Internet Explorer ActiveX control v0.9.9.62

Supported OS: Any Windows that supports Firefox, Chrome, and Internet Explorer

BitDefender QuickScan homepage
Related Posts