Are you taking advantage of Amazon's daily Android app freebies? If not, today may be a good day to start. For the next 24-hours (October 26, 2011 only) Amazon is giving away OfficeSuite Pro 5 for Android ($14.99) for free: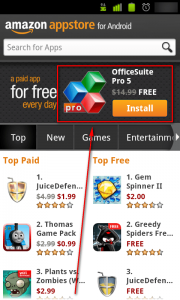 For those that don't know what OfficeSuite Pro 5 does:
Create, view, edit and share Microsoft Word, Excel and PowerPoint files and attachments and view PDF files on your Android based phone with a single complete feature-rich mobile office solution. Now also on Android Honeycomb. The software utilizes the most commonly used desktop document formats and also includes a File Browser and integration with Google Docs to help you manage your local, remote files and email attachments. OfficeSuite Pro is an essential productivity application offering greater office efficiency than ever anywhere, anytime.
Consider this a "heads up" to grab this app even if you don't need it right now. The cool thing about Amazon is once you grab a freebie you own it; you can install it whenever you want. If you don't need this app right now, you may find a need for it in the future. So get it now. While you can. For free.
OfficeSuite Pro 5 [Amazon Appstore]
Related Posts