Looking to jump on the smartphone bandwagon but don't want to sign a two year contract with a forced monthly data plan? Today may be your lucky day. Reports are emerging T-Mobile USA is selling the Motorola Defy for $59.99 with no contract renewal or commitment: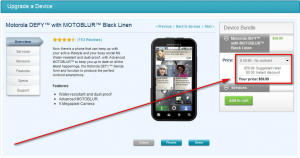 Since there is no contract requirement, that means you aren't forced to purchase a monthly data plan either. You can use the Defy solely on WiFi, if you wish.
Update: T-Mobile's website does not mention it but it looks like these may be refurbished units. Still a good deal, but not nearly as good as if they were brand new.
The Motorola Defy is not a high-end handset by any means; it is over a year old and even last year it debuted as a m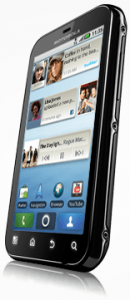 id-range device. However, it is oone of the upper mid-range devices. It has a 3.7 inch screen covered in Gorilla Glass, 2 GB internal storage with support for up to 32 GB microSD (2 GB card included), 512 MB RAM, 5 MP camera with LED flash, 800 Mhz processor, is dust proof, and is water resistant. Officially it has Android 2.1 (Eclair) with an optional Android 2.2 (Froyo) upgrade. However, there are many custom ROMs for the Defy available, most notably CyanogenMod and MIUI, so don't let the fact that it only has Froyo deter you.
From the looks of it, this deal is available only to T-Mobile USA customers. You need to login via My T-Mobile, shop Android handsets, pick one of your lines (as far as I know you can get one per line), select the Motorola Defy, click on the Price drop-down menu located on the right side, and select $59.99 – No contract extension. Then click Add to cart and checkout. You can also try ordering over the phone via T-Mobile customer service but I don't know if that will work or not. Take note that many people are buying this so the phone may be on back order or may become out of stock very soon.
[Note: Not all T-Mobile USA customers will be eligible for this. From what I am reading, it depends on your standing with T-Mobile.]
News about this too-good-to-be-true deal is still emerging but it appears this is legitimate — a Motorola Defy for $59.99 without any contract or data plan commitments. However, I still suggest you call T-Mobile customer service a day after you order to confirm the details.
If you aren't a T-Mobile USA customer, you may know a friend that is. You can always ask him/her to order one for you if you want a Defy. Just remember the Motorola Defy is a GSM device so it won't work on CDMA networks like Sprint, Verizon, Virgin Mobile, Cricket, etc. It will only work on T-Mobile, AT&T, and T-Mobile/AT&T MVNOs like My Simple Mobile; and on AT&T/AT&T MVNOs it will only get 2G (it will get 3G on T-Mobile/T-Mobile MVNOs). If you plan on using the Defy internationally, it has a quad-band GSM radio so you will get 2G coverage on all GSM networks around the world.
Good luck and enjoy!
[Thanks Khalid | via SlickDeals]
Related Posts