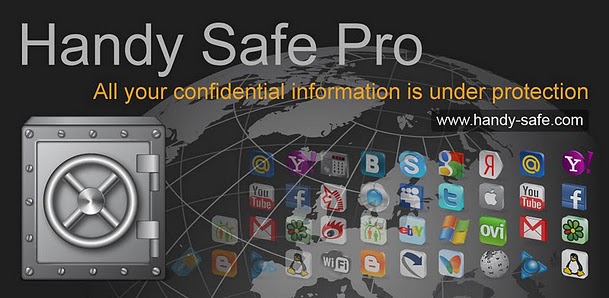 App Description
The following is a description of Handy Safe Pro, as per the developer:
Handy Safe Pro – a new level of usability comes to data management applications with unbeatable security functionality. Customized graphical cards represent all your confidential information in an easy-to-use interface, and 448-bit Blowfish encryption guarantees absolute security. Keep your mind free of countless numbers and letters. Your important information is now in one place – safe, easy to access, and always with you.

Handy Safe FEATURES:

New graphical card representation.
Set of 35+ preinstalled graphical templates and icons.
Card customization.
NEW! Sync with desktop client to ensure database integrity. (you need to download Handy Safe Desktop Professional from www.handy-safe.com – it costs $9.99).
Strong 448-bit Blowfish data encryption guarantees absolute safety of your confidential information. There is no effective code breaking method currently known.
35 unique information forms to store passwords, credit card details, codes, accounts (banking, email, Internet, shopping), web pages, addresses, travel info, insurance policies, software keys and much more.
Custom templates to store specific information according to your needs.
URLs are treated as hyperlinks.
Subfolder support.
Autolock when Handy Safe Pro is in background or not used for a certain period of time.
dotTech Advice
[Note: This freebie is available for Android and Symbian. However, since I own an Android – not Symbian – device, I will be discussing the Android version of the app. As far as I know, Symbian version should be the same.]
[Note: Handy Safe Pro is developed by the mobile arm of Paragon Software, a well known and respected desktop software publisher.]
Handy Safe Pro is a simple data manager for Android. When I say "simple" I don't mean simple as in easy-to-use (although it is fairly easy to use) but rather simple in terms of features. There is only one attractive/unique feature of Handy Safe Pro: Templates. Handy Safe Pro comes with 35+ precreated templates for credit cards, emails, passwords, bank accounts, etc. which make it very convenient to input your data without having to create the templates yourself. (Handy Safe Pro allows users to create their own templates, if needed.) Other than the templates, Handy Safe Pro is the same store-data-run-app-get-data type manager that are a dime a dozen on Android; and indeed in some areas, specifically password management, it is lacking versus the competition.
For example, KeePassDroid, the best free password manager for Android as ranked by dotTech, makes it very convenient when accessing login information: It puts notifications in the pull down menu for one-tap copy to clipboard of username and/or password for easy pasting when logging into a website. That may sound like a simple feature but on a mobile device it is a brilliant feature that makes password management bearable. Handy Safe Pro also allows users to copy usernames, passwords, or any other data you input in it; however, with Handy Safe Pro no notification is put in the notification bar — you must long tap the data you want to copy and select to copy it.
One interesting thing I noticed about Handy Safe Pro is it claims to be able to sync with the desktop client, Handy Safe Desktop Professional (desktop client costs $9.99). What makes this interesting is the fact Handy Safe Pro – the app on Android – does not ask for any Internet access privileges; nor is there any option within the app to run a sync. So that makes me wonder how exactly Handy Safe Pro syncs with Handy Safe Desktop Professional. It cannot be a wireless sync since Handy Safe Pro doesn't ask for any wireless connectivity access permissions. My guess is the sync is wired, i.e. after you install Handy Safe Desktop Professional whenever you plug your device into your computer a sync occurs.
That all being said, if you are looking for a password/login manager I definitely recommend KeePassDroid over Handy Safe Pro. On the other hand, if you are looking to input other types of data (like credit card numbers, bank account information, or any of the other 33+ templates supported by Handy Safe Pro) Handy Safe Pro is a viable option to manage that for you, as is Pocket an always-free data manager app. Just keep in mind: The more personal data you store on your mobile device the more worried you will be once it gets lost/stolen. (For what it is worth, Handy Safe Pro does use encryption and password protection but that still doesn't guarantee your data is 100% safe if your device is lost/stolen.)
Freebie Details
Handy Safe Pro is being given away in a promotion run by the developer themselves. To take part in this promotion you need access to a computer and an Android (or Symbian) device — the computer will be used to register and get the registration code, while the mobile device will be used to download and install the app. There is no information on how long this promotion will last nor if you can install on multiple devices nor if you can install/reinstall at a date in the future.
To get Handy Safe Pro for free, do the following:
Version being given out for free: v1.04
Free updates and technical support: Unknown
Download size: 1.7 MB
Supported OS: Android 2.1 and up and Symbian
Note: As way to thank them for this freebie, Paragon Software requests you "like" their mobile products fanpage on Facebook. If you have Facebook, please do so. If you don't have Facebook… don't worry about it.
On your computer visit the registration page, select your operating system, enter your e-mail address, and hit Submit: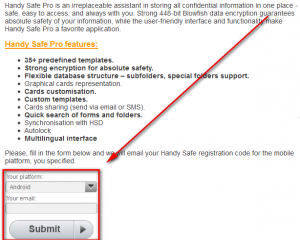 Check the inbox of the e-mail address you entered. Look for an e-mail from noreply@handy-safe.com with subject of Gift for our Facebook fan!. In the e-mail you will find the registration code you need to register Handy Safe Pro: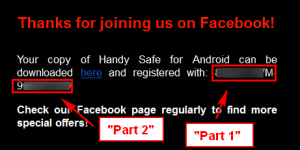 Take special note how the license code is broken up into two parts — Part 1 and Part 2. Part 1 is the first part of the code all the way to the hypen (but it does not include the hypen). Part 2 is the second part of the code after the hypen all the way to the period (but it does not include the period or hypen). It is key to take note of this fact because you will need to enter the code as two parts in Handy Safe Pro on your mobile device.
On your mobile device download and install Handy Safe Pro. To download on Android, visit http://handy-safe.com/files/166. To download on Symbian, visit http://handy-safe.com/files/145.

Note: On Android you need to have sideloading enabled in order to install any non-Android-Market apps, including Handy Safe Pro. To enable sideloading, tap the menu key on your device, go to Settings -> Applications, and check Unknown Sources. You will be shown some sort of security prompt — you have to accept it or else sideloading won't be enabled. (You can turn off sideloading after you install Handy Safe Pro if you are worried about security.) Once you have sideloading enabled, install Handy Safe Pro using a file manager to navigate to were you downloaded Handy Safe Pro's APK.

After installation, run Handy Safe Pro and register it using the license code you were given via e-mail. The following screens illustrate how to register Handy Safe Pro using your license code — follow the red arrows, boxes, and text: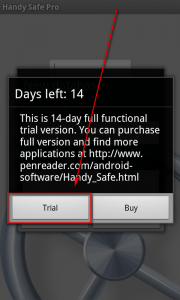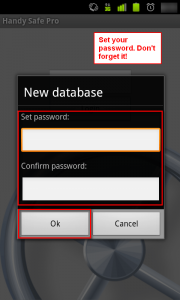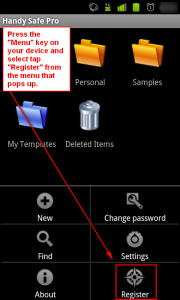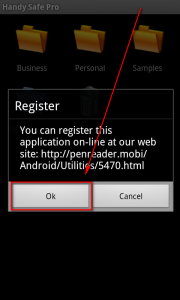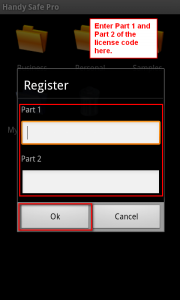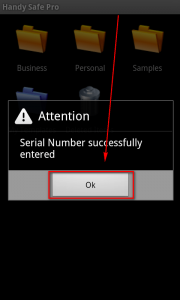 If you have trouble getting Handy Safe Pro for free, post below and other dotTechies or I will try to help.
Thanks Murphy!
Related Posts