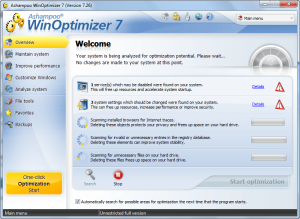 Update: WinOptimizer 8 is now available as a freebie! Go get it now.
Software Description
The following is a description of WinOptimizer 7, as per the developer:
What does this program do?

Just as dirt and trash accumulate in buildings and factories in the course of time, unnecessary data and "leftover files" gradually collect in all Windows® installations as you use them. As this garbage collects it slowly clogs up your system, taking up space and making performance slower and slower.

Ashampoo WinOptimizer 7 is like having your own personal cleaning company for your Windows® computer. Like a professional cleaner, the program knows exactly what kind of dirt to look for, where to find it and how to get rid of it efficiently and without damaging anything else.

How is Ashampoo WinOptimizer 7 organized?

Professionals use different cleaning agents for different kinds of dirt. Ashampoo WinOptimizer 7 does not only have several easy-to-use modules that were especially designed for the system performance and stability but also includes an absolutely unique feature – the One-Click-Optimization!

The Modules

Maintain System

One-Click-Optimizer. Ashampoo WinOptimizer 7 optimizes your complete Windows® with only one click. If you use the default options, the functions Drive Cleaner, Registry Optimizer and Internet Cleaner are executed automatically.

Drive Cleaner. Optimize your hard disk drives with Drive Cleaner. Get rid of general redundant files.

Registry Optimizer Cleanup. you registry with  Registry Optimizer. It cleans up leftover garbage in the Windows® registry. See also: The Windows® Registry.

Internet Cleaner Cleanup. your internet files with Internet Cleaner. It cleans up the temporary files and "data trail" left by Internet surfing sessions.

Defrag 3. This is the ultimate option for a simple and efficient defragmentation of your hard drive(s).

Optimize Performance

Service Manager. Is a service unnecessary, necessary or absolutely essential? Benefit from user and developer experiences!

StartUp Tuner. Control the system start with StartUp Tuner. Disable annoying and malicious programs that waste your system resources.

Internet Tuner. Internet Tuner gives you faster smother snappier internet surfing. It ooptimizes your Internet connection for faster, more efficient performance

Process Manager. The Process Manager is an essential tool for dealing with badly-behaved programs.

Uninstall Manager. Uninstall Manager helps you to manage installed applications on your computer and to easily uninstall applications.

Customize Windows

Tweaking. A control center for adjustment of your Windows® system settings.

AntiSpy. This module helps you to keep data on your computer to keep data private.

File Associator. Which application opens a certain data format? Decide which software opens for example your images or films.

Context Menu Manager. The new Context Menu Manager enables you to view and manage the contents of right-click context menus in Windows, giving you full control. 

Icon Saver. Saves and restores the arrangement of your desktop icons.

Analyze system

System Information. Shows detailed information of installed devices and software.This information is helpful for error checks and support features.

DiskSpace Explorer. Analyzes and displays how the space on your hard disk drive is used. The information can be sorted dynamically and displayed in graphs.

System-Benchmark. The System Benchmark module tests the processor (integer and floating point) and memory performance of your system and compares the aggregate result with the performance of reference systems.

Disc Doctor. Disc Doctor allows defective sectors to be repaired—including damaged MFTs (Master File Tables)—and also gives you the option to recover lost data.

File Tools

File Wiper. Delete files forever with File Wiper. It permanently removes files and folders so that they cannot be restored.

Undeleter. Allows you to scan for and recover files which have already been deleted.

File Encrypter & Decrypter. Fast and safe security for your important files with the highly-efficient blowfish-algorithm.

File Splitter & Joiner. Enables you to split large files into smaller parts. Later you may join or respectively reassemble the the smaller parts back into the original file.
dotTech Advice
Ashampoo WinOptimizer 7 is one of those jack-of-all-trades-master-of-none system utilities. As you can see by the software description above, it comes with many features that users can potentially find useful.
The issue with WinOptimizer 7 isn't the lack of features but rather some of the features are half-baked. For example, the Internet Cleaner supports IE, FF, and Opera but not Chrome; the Uninstaller is just a simple uninstaller and does not look for leftovers after installation (like how RevoUninstaller does); etc.
Personally speaking I had a bad run-in with WinOptimizer a few years back when it was WinOptimizer 4 or 5 (I cannot remember the exact edition). I was using it to clean out my computer and I noticed it cleaned out more than I wanted to, deleting my desktop shortcuts and some other files I did not want it to delete. Since then I haven't touched WinOptimizer but it wouldn't be fair for me to damn a software based on just one past experience.
Now I am not saying WinOptimizer 7 is bad. It isn't bad. It is good. Rather, when it comes to system utilities, I personally rank WinOptimizer in the second tier under programs like TuneUp Utilities, WinUtilities, and Glary Utilities (the latter two have free versions). Now this is my personal bias and shouldn't be taken as an authoritative judgment; but still I believe it is worth something when I say if I had the choice I would probably pick a different system utility over WinOptimizer 7.
That said, grab WinOptimizer 7 if you want it. It is good — just not great.
Freebie Details
WinOptimizer 7 is being given in a promotion sponsored by Softpedia. The promotion is live for 24-hours (there is no info on exact end time), so grab it while you still can. There is no information on if you can install/reinstall at a later date but based off my past experience with Ashampoo, you should be able to as long as you keep the installer and registration details safe.
To get WinOptimizer 7 for free, follow these simple directions:
Version being given out for free: v7.26

Free updates: No
Free technical support: Unknown

Supported OS: Windows XP/Vista/Win7

Download size: About 23 MB
Download Ashampoo WinOptimizer 7.
After the download has finished, install Ashampoo WinOptimizer 7. During installation take special note to not install MyAshampoo toolbar and make other junk changes to your computer if you don't want to: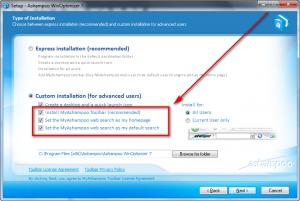 After installation has finished a registration page should automatically open in your default Internet browser. Enter your e-mail address at the registration page: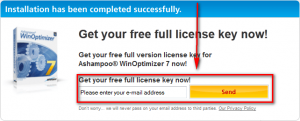 After you enter your e-mail address and hit Send, what happens next will depend on if you have an existing account with Ashampoo or not:
Existing Account

You will be asked to login using your password:
(If you cannot remember your password you can try to recover it or just create a new account with a new e-mail address.)

Once you login you will be asked to fill out a form:

The important thing to note here is that the form is optional. You are not required to fill it out. You can click the "Not now" button and bypass it. Unless you really want to give Ashampoo your personal information, I suggest just bypassing the form.

Once you either submit or bypass the form, you will be given the registration key for Ashampoo WinOptimizer 7:

Copy the registration key — you will need it soon.

New Account

You will be shown a screen similar to the following after you enter your e-mail address:

This screen is simply telling you that you need to confirm your registration. Go check the inbox of the e-mail address you registered with. Look for an e-mail from Ashampoo (MrReg@ashampoo.com) with the subject of Confirmation link for your email address. In this e-mail there is a link you need to follow to confirm your e-mail address:

Once you visit the link, you will be asked to fill out a form:

The important thing to note here is that the form is optional. You are not required to fill it out. You can click the "Not now" button and bypass it. Unless you really want to give Ashampoo your personal information, I suggest just bypassing the form.

Once you either submit or bypass the form, you will be given the registration key for Ashampoo Burning Studio Elements:

Copy the registration key — you will need it soon.
Once you have your registration key run Ashampoo WinOptimizer 7.
When you run WinOptimzier 7 you will be prompted to register it. Register it using registration key you were given: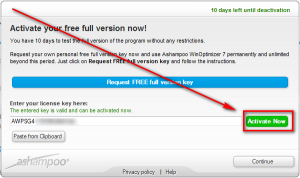 Enjoy!
Note: WinOptimizer 7 is not the latest version of WinOptimizer. WinOptimizer 8 is. You will be prompted to download and upgrade to WinOptimizer 8. Free updates are not part of this freebie. If you upgrade to WinOptimizer 8 you will either have to pay for it or you will use a 30 day trial. So I suggest hitting the No Thanks button when prompted to get WinOptimizer 8.
If you have any trouble getting Ashampoo WinOptimizer 7 for free, post below and other dotTechies or I will try to help.
Related Posts