Software Description
The following is a description of Static Backup8, as per the developer:
All personal data will be backed up

It is very difficult to find all those messages, contacts, plugins, settings, favorites from your computer and backup them before you erase your system from your computer. Backup8 will help you to do this job. Just only need few clicks Backup8 will find and backup all necessary personal data from your computer, such as messages, contacts, plugins (from Firefox, Thunderbird), settings (from registry) and favorites to one archive file with high ratio compression. Upgrade system, transfer personal data to another computer or reinstall system now is easy.

Backup8 supports most popular software

This powerful backup tool supports most popular software and will find, backup all personal data and settings. It also will backup 'My Documents' folder or any folder or registry item you have added to custom list. Backup8 can backup data from Windows Live Mail, Outlook 2003, Outlook 2007, Outlook 2010, Windows Mail, Outlook Express, Firefox, Thunderbird, Incredimail.

Scheduler has built-in

Scheduler is a service program, after you install backup8, the scheduler service will start with your computer starts up. You can setup scheduler and adjust backup options from the main-window of Backup8. After you enable the scheduler, your backup archive will be created in time. You can setup scheduler program by hourly, daily, weekly and monthly.

Easy to backup

With ribbon layout, you don't need to learn how to use it, just few clicks will get all your data backed up.

Above 4GB

Backup8 allows you store more data above 4GB. Also the output archive will be compressed with high ratio algorithm.

Easy to restore

Archive Explorer has built in. Easy to browse your archive file and easy to restore your data.
dotTech Advice
Static Backup8 is a file-level backup program (not system-level). It allows to easily backup files/program data/registry entries of Internet Explorer, Chrome, Firefox, Safari, Outlook Express, Windows Mail, Windows Live Mail, Outlook, My Documents, Incredimail, Thunderbird, Foxmail, The Bat!, and Becky. In addition to those programs/folders, there is a Custom List users can add custom registry entries, files, or folders to backup.
All backups are automatically compressed and stored in a proprietary .BK format. Backups can be restored in full or individual registry entries, files, or folders can be restored from backups using the Archive Explorer. There is a scheduler for those that want to automate backups daily, weekly, or monthly.
If you know some scripting, Static Backup8 has an LUA Debugger that allows you to write your own backup scripts.
For compression Static Backup8 uses LZMA so it does a good decent amount of compression. For example, I was able to compress 196 MB of data to 179 MB. Jeanjean was able to compress 1.86 GB of data to 1.24 GB.
Overall I'd term Static Backup8 as a niche software. I call it a niche software simply because it isn't very conducive to custom backups. When running a backup you have the ability to select/deselect any of the programs I mentioned above; you also have the ability to select/deselect all the registry entries/files/folders on the custom list. The issue is you can either backup everything on the custom list or nothing at all — you can't individually select files/folders. In addition, Static Backup8 doesn't offer the ability to encrypt or password protect backups; and it uses proprietary format to store backups. So the people that will find Static Backup8 useful are the ones who regularly use the programs mentioned above, don't want to encrypt or password protect their backups, and don't care if backups are in proprietary format. Honestly, if it were me, I'd rather be using MailStore for e-mail backups and GFI Backup for anything else.
Freebie Details
Static Backup8 is being given away by Daily Software Giveaway. The giveaway ends Friday March 9, 2012 0600 Eastern Standard Time. There is no information if you can install or reinstall at a later date.
To get Static Backup8 for free, do the following:
Version being given out for free: v1.248
Free updates: Unknown
Free technical support: Unknown
Download size: Total of 6.6 MB
Supported OS: Windows 2003/XP/Vista/Win7/Win8
Download this ZIP file. Extract the files after the download has finished.
When you extract the files you will notice there is a backup8-dsg.exe file and a Readme.txt file. Backup8-dsg.exe is the custom installer from Daily Software Giveaway but it is buggy and has never worked for me — so ignore that, we don't need it. What we need is to open Readme.txt and copy the registration information: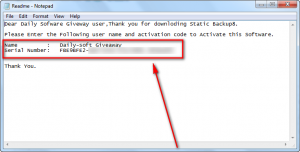 Keep the Name and Serial Number safe — you will need it soon to register Static Backup8.
Download and install Static Backup8.
After installation, run Static Backup8 and register it with the registration information you grabbed from the Readme.txt file discussed earlier: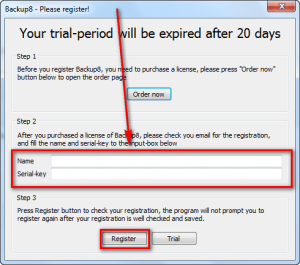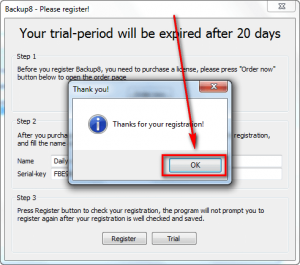 If you have trouble getting Static Backup8 for free, post below and other dotTechies or I will try to help.
[Thanks Jeanjean!]
Related Posts