Software Description
The following is a description of Xara Xtreme 5, as per DownloadCrew:
Xara Xtreme 5 is a powerful illustration tool with the versatility to handle a host of different graphics tasks.

Capable drawing tools help you to create everything from simple business logos to detailed technical illustrations, for instance.

The program can produce web graphics, Flash animations, even entire websites with the minimum of hassle.

There are tools to enhance your digital photos; desktop publishing-type templates make it easy to produce greetings cards, invitations, calendars and more; and you can use the program to produce web graphics, Flash animations, even entire websites without worrying about code.

There's no shortage of functionality here, then, yet despite all this Xtreme 5 remains relatively easy to use. Just click File > New From Designs Gallery and you'll find plenty of sample files and project templates. In many cases these have built-in assistance, so for example birthday card templates come with embedded text explaining how you can customise them. And if you need more assistance then a detailed local help file is on offer.
dotTech Advice
As I've stated in the past, graphic design isn't something I am familiar and as such am not qualified to give advice on a graphics design package. I will say this much, though:
Xara Xtreme 5 is aimed at web graphics, e.g. graphics for websites.
Xara Xtreme 5 is 2-3 years old. The latest version is Xara Designer 7.
Doing a quick search on Google, Xara Xtreme 5 has gotten some good reviews, with its biggest advantage being its price compared to the competition (but price isn't a factor today since it is free).
If you grab Xara Xtreme 5, share your experience with the program in the comments below.
Note: Xara Xtreme 5 is the same program as MAGIX Xtreme Photo & Graphic Designer 5. If you already have MAGIX Xtreme Photo & Graphic Designer 5 from an earlier freebie, there is little to no need to grab Xara Xtreme 5.
Freebie Details
Xara Xtreme 5 is being given away in a promotion by the DownloadCrew. The promotion is live until Saturday 20, March 2012 23:59 Central European Time; there is not information on if you can install/reinstall after this date.
To get Xara Xtreme 5 for free, do the following
Version being given out for free: v5.1.2
Free updates: No
Free technical support: Probably not
Supported OS: Windows XP/Vista/Win7

Download size: 224 MB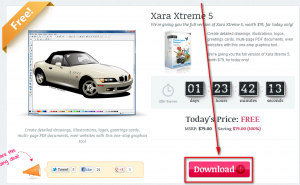 After the download has finished, install Xara Xtreme 5.
After installation, run Xara Xtreme 5 if it doesn't start automatically. When Xara Xtreme 5 runs, you will be prompted to register the program. Click on the Register online now button:

Once you click on the button, the registration page will open in your default browser: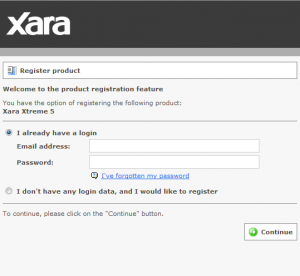 If you have an account with Xara type in the e-mail address and password and hit Continue. If you don't have an account, select I don't have any login data, and I would like to register and hit Continue. At the next page you will see a form: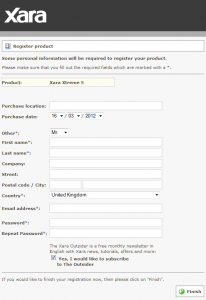 If you had an account with Xara from the past, this form will already be filled in so all you have to do is hit Finish. If you are creating a new account, this form will not be filled in so fill out the form and hit Finish. Once you hit finish you will get a confirmation message like the following:

Check the inbox of the e-mail address you registered with. Look for an e-mail from  Xara info-de@xara.com with the subject of Your Xara product registration. In the e-mail you will find the registration code you need to use to register Xara Xtreme 5:
Copy the unlock key.
Go back to Xara Xtreme 5, paste the code in the registration box (it will automatically take out the TRIALC part if you copied that), and click the Start Program button: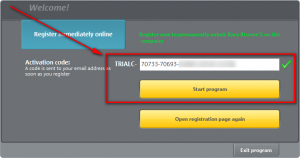 If you see the following success message, you are the proud new owner Xara Xtreme 5: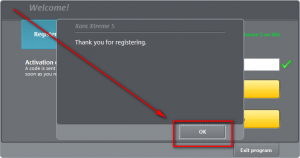 If you have trouble getting Xara Xtreme 5 post below and other dotTechies or I will try to help.
[Thanks Leandro!]
Related Posts