Software Description
The following is a description of AIDA64 Extreme Edition, as per the developer:
AIDA64 Extreme Edition is a streamlined Windows diagnostic and benchmarking software for home users. AIDA64 Extreme Edition provides a wide range of features to assist in overclocking, hardware error diagnosis, stress testing, and sensor monitoring. It has unique capabilities to assess the performance of the processor, system memory, and disk drives. AIDA64 is compatible with all current 32-bit and 64-bit Microsoft Windows operating systems, including Windows 7 and Windows Server 2008 R2.

CPU, memory and disk benchmarks

AIDA64 implements a set of 64-bit benchmarks to measure how fast the computer performs various data processing tasks and mathematical calculations. Memory and cache benchmarks are available to analyze system RAM bandwidth and latency. Processor benchmarks utilize MMX, 3DNow!, SSE, XOP, FMA, and AVX instructions, and scale up to 32 processor cores. For legacy processors all benchmarks are available in 32-bit version as well. AIDA64 Disk Benchmark determines the data transfer speed of hard disk drives, solid-state drives, optical drives, and flash memory based devices.

Temperature, voltage and cooling fan monitoring

AIDA64 supports over 150 various sensor devices to measure temperatures, voltages, fan speeds, and power draw. Measured values can be displayed on System Tray icons, OSD panel, Sidebar Gadget, and Logitech G15/G19 Gaming Keyboard LCD. The values can also be logged to file or exported to external applications such as RivaTuner or Samurai. AIDA64 can also alarm the user when it detects overheating, over-voltage, or cooling fan failure.

Hardware diagnostics

AIDA64 has the most accurate hardware detection capabilities in its class, to provide detailed information on the computer internals without the need to open it up. The hardware detection module is strengthened by an exhaustive hardware database holding over 120,000 entries. Additional modules are available to overview processor frequencies, check CRT and LCD display status, and stress the system to reveal potential hardware failures and thermal issues.

Software and operating system analysis

AIDA64 provides over 50 pages of information on installed programs, software licenses, security applications, and Windows settings. List of started processes, services, DLL files, startup programs, and visited web pages is also available.
dotTech Advice
Anyone remember EVEREST, a very popular system analysis/diagnostic/benchmark tool? Well the company that developed EVEREST got bought out and replaced EVEREST with AIDA64. Essentially, AIDA64 is the successor to EVEREST — and AIDA64 is every bit as sweet as its predecessor. Simply put, AIDA64 is an excellent tool. While there are freeware tools, such as Speccy, which provide some of the functionality AIDA64 does, I can't think of any freeware program that has so many handy system analysis/diagnostic/benchmarking tools packed into one package. In of itself, AIDA64 is an awesome program. However…
Today's freebie is of AIDA64 Extreme Edition v1.85 — the latest is v2.30. On top of that, DownloadCrew does not mention this but this freebie is of a one year license for AIDA64 Extreme Edition (i.e. you can only use it for a year). Does DownloadCrew and FinalWare (the developer of AIDA64) really expect us to use an old version of a software for one year? Really? Bait-and-switch-like tactics for the lose. They should be ashamed of themselves. You are welcome to grab this freebie and use AIDA64 for a year but in my opinion don't bother. AIDA64 isn't that great of a program to be insulted like this by DownloadCrew and the developer.
If you are looking for some handy AIDA64 alternatives, check out: EVEREST Ultimate Edition (v4.6) which is an old freebie of an discontinued program but is still available and useable for people who don't necessarily have the latest gear; there is Speccy, as I already mentioned; WinAudit is another good one; System Information for Windows is excellent; and many more — let us know in the comments about the ones that you know of.
Freebie Details
AIDA64 Extreme Edition is being offered for free for 24-hours by DownloadCrew. The promotion ends 23:59 (Central Europe Time, or GMT +1) Thursday March 29, 2012. There is no information if you must install and register during these 24-hours. Please note: Although DownloadCrew does not mention it, this freebie is of a one year license of AIDA64 Extreme Edition.
To get AIDA64 Extreme Edition for free, follow these simple directions:
Version being given out for free: v1.85.1600

Free updates: No
Free technical support: Unknown

Supported OS: Windows XP/Vista/Win7

Download size: 12.3 MB
To take advantage of this promotion you to have an account with DownloadCrew. Registering with DownloadCrew is completely free and only takes a few minutes. If you already have an account with them, skip to the next bullet point below. If you don't have an account with them, visit the registration page and register:
Now check the inbox of the e-mail address you registered with. Look for an e-mail from noreply@giveaway.downloadcrew.com with subject of giveaway.downloadcrew.com – New Account. In the e-mail is a link you need to follow:

Click on the link or copy + paste it in your browser. Once the page loads your account has been confirmed and you can use it.
If you are not already logged in (you may already be logged in if you just created a new account) visit the login page and log into your DownloadCrew account:

Once you hit the Get Serial Code button, a registration code will show.

This is not the registration code for AIDA64

— this is the registration code you must use to get the license code for AIDA64. If you are confused, don't worry — just keep reading these directions. Copy the registration code that appears:

Now visit the registration page and fill out the form to register; make sure to insert the registration code DownloadCrew gave you in the RegCode box: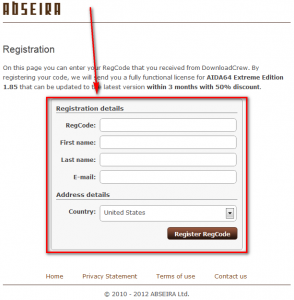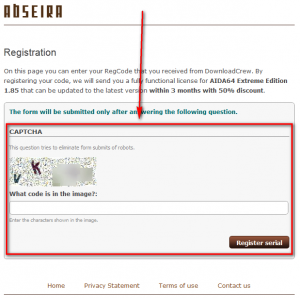 Now check the inbox of the e-mail address you just registered with. Look for an e-mail from abseira.com info@abseira.com with subject of Registration. In the e-mail you will find the license code for AIDA64 Extreme Edition — copy it:
After the download finishes, install AIDA64 Extreme Edition.
After installation, run AIDA64 Extreme Edition and register it using the registration code you received via e-mail: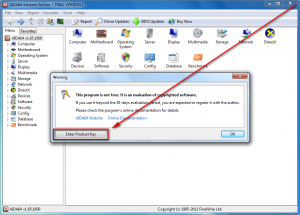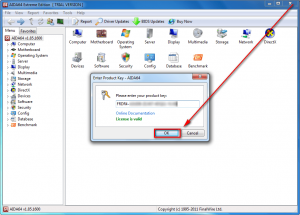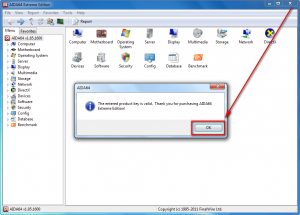 If you have trouble getting AIDA64 Extreme Edition for free, post below and other dotTechies or I will try to help.
Related Posts