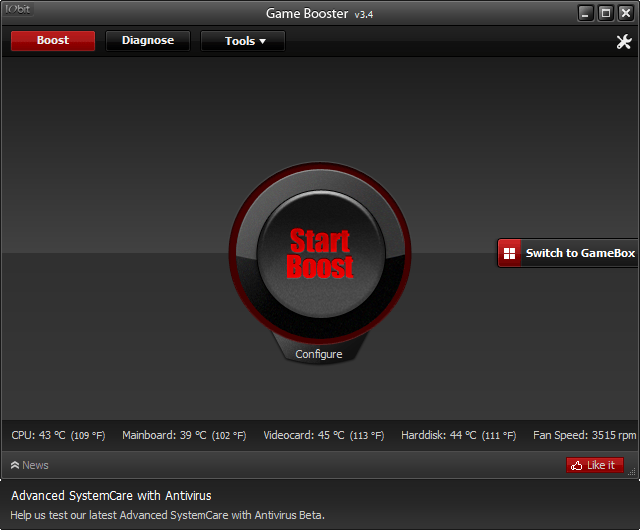 IObit, the company behind the famous Advanced SystemCare program, has become popular due to its freeware-with-optional-shareware-upgrade model. To date, IObit software have had a free version with the option to upgrade to a paid version which has more features. For over three years, IOBit has had a piece of software designed to help you get the most out of your computer while gaming called Game Booster. Game Booster originally started off as freeware and, after it became popular, IObit launched a shareware version allowing users to pick between the free and paid versions of the program. dotTech has even featured Game Booster multiple times in the past, including a review of Game Booster and a giveaway of Game Booster Premium. Now, with a broken heart, we inform you IObit has decided to discontinue the free version of Game Booster.
After June 30, 2012 the free version of IObit Game Booster will no longer be available for download. Anyone that wants the free version of Game Booster must download it now and save the setup file, in case of reinstall at a later date. Anyone that downloads free Game Booster before June 30th gets to keep it and use it for free for life (assuming you keep the setup file safe) but the free version of Game Booster will no longer receive updates. The key thing to note here is Game Booster Premium is not being discontinued; it will continue to be updated, available for download, and available for purchase.
Why exactly has IObit decided to ditch their freeware-shareware model for Game Booster? We aren't exactly sure but my guess is one of two reasons:
Game Booster has become immensely popular and IObit sees no reason to provide a free version any more — people who want it will pay for the Premium edition.
IObit is facing a money crunch and has to cut back on projects that provide little to no return on investment, i.e. free Game Booster.
Whatever the case may be, the reality is free version of Game Booster will soon be of the past. So download it now, and keep it safe, if you want it. Hit up the link below to grab free version of Game Booster.
Supported OS: Windows 2000/XP/Vista/Win7
Download size: 4.15 MB
Version: v3.4.0
Game Booster homepage [Download page]
Related Posts