Stepstone or milestone? Is there a difference? Who cares! dotTech.org has officially published 100 reviews on GiveawayoftheDay.com giveaways: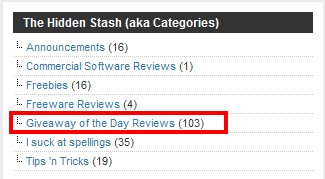 Yes I know the article count says 103, but I have a couple of articles in that category that are unrelated to reviews; …and I forgot to publish this list yesterday, haha.
Anyway, lets not let technicalities ruin this great moment. In celebration of surpassing this small goal (I say small because inshAllah there is no plan on stopping anytime soon albeit a small break may occur a little later, hint hint), I have decided to publish my choice of top ten giveaways out of the 100+ I have reviewed so far. Are you ready? Too late:
10. Linkman Pro
I like this program because it provides a comprehensive, unprecedented way to manage and import/export your bookmarks. It is very easy to use, is very light on resources and has great browser integration.
I discovered the value of AnVir Task Manager a month or so after it was given away which is why this software appears on my list. By that time it was too late since I had already uninstalled AnVir – I am still waiting for it to come back again. You can now get AnVir Task Manager for free from dotTech itself!


AnVir appears on this list because it is a very nice program that completely replaces, and improves upon, tasks usually done by your Windows Task Manager. Plus it adds in extra features like threat detection and start-up management.
Daniusoft Media Converter is simple to use and supports many input/output formats. However, this is nothing my beloved freeware FormatFactory cannot do. Therefore there must be another reason why this program is on my list. There is: the reason this appears on my list at #8 is the ability of DMC to strip DRM from media. Very useful.

Image Commander is an easy to use tool who's core feature is the ability to watermark images. With IC, you can watermark multiple images at once. Watermarks include image or text. However, there are many programs out there that can watermark images. IC makes my list because it has an extra feature that I have yet to see in any other watermark program I have tried yet: the ability to scale a watermark relative to the size of the image your watermarking.

6. PDF to Image/PDF to HTML/PDF to Text/PDF to Word

Okay technically these are four different programs and I did not even review three of them. But I make the rules, so I can wave my magic wand and break them. Just one of the perks of running your own website =P.

So anyway, with PDFs so widely used today, these four programs are very handy since one way need the information contained in a PDF file but does not want to necessarily use the PDF. Plus the quality of the output file provided by these four programs surpasses other programs such as PDFZilla.

5. Starburn

At this point you must be thinking "Every computer with a CD/DVD/Blue Ray/HD DVD burner comes with a program that allows you to burn discs. So why did Ashraf chose this program as a favorite? Has he gone mad?". Well I may have gone mad, but my sanity, or the lack thereof, is the not point of the discussion on hand. I have put StarBurn on my favorites list because it is an excellent disc burning program. It has every feature you can possibly need concerning burning discs, from ripping movie DVDs to burning Blue Ray/HD DVD to network burning. Plus it is very light on resources and has a freeware version that only lacks network burning. I also lost StarBurn to a reformat, but have replaced it with Ashampoo Burning Studio 2009 since then.

Why I picked this software is easy: the ability to create beautiful, elegant, and earn-points-with-that-special-someone collages. It comes with lots of templates that you can use or you can create your own collage from scratch. This is actually one of the programs that I lost during a reformat. I really missed it on the Valentine's that just passed (ssshh don't tell anyone I said that – it will hurt my street cred) and am hoping it comes back around soon.

3. WinUtilities

WinUtilities is undoubtedly one of the best giveaways ever on GOTD. Filled with features that help you maintain you computer, such as registry cleaner, WinUtilities is reliable and potentially a software one may use everyday. If you missed out on this one, you really are missing out. No worries; check out TuneUp Utilities 2007 for a viable free alternative.

Update: You can now get WinUtilities for free from dotTech itself!

2. Edraw Max

Graphs galore. Edraw Max is an excellent program which you can use to create almost any type of graph you can think of, from floor plans to ER diagrams to swinlanes. This is another program I lost in a format and am sorely missing it. Hope it comes back around soon.

1. Art Studio

One word to describe this software: wow. Art Studio allows you to easily animate your still images in minutes. Add ripple effect to water, make the sky move, add rain, add snow, etc. etc. It is literally point, click, animate – no animation expertise needed. All things considered, this program takes the cake as #1. I am…err Art Studio is numba 1!
Well you have read about my 10 favorite giveaways. Tell me about your favorites – post in comments below if you will puhleez. They do not have to be ten, your top favorite or top 5 or whatever will do, nor do they have to be one of the software I reviewed.
Related Posts