Update: Forget Titan Backup. Go with GFI Backup now!
I was in the middle of watching a Fringe episode (catching up before new episodes come out on Tuesday) when I received an email from a dotTech reader known as Michal. Michal was kind enough to email me to tell me about a handful of freebies being offered by Brothersoft.com (thx Michal!). In total there are 5 freebies; however two of them are freeware. Out of the other three, only one is worth downloading. I am sure you are intrigued by now. Well hold on because here we go:
What commercial software can you grab from Brothersoft.com for free that you would have to pay for otherwise?
Titan Backup v2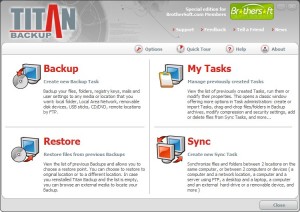 Titan Backup is a professional backup utility that does its job really well. With a nice clean interface, it has the ability to not only backup your files but also registry files. You can password protect, encrypt (AES 256) or compress backups. There is a scheduler to do automatic backups. You can restore backups direct from the program or create self extracting backups. There is also a sync tool.
Anyone that follows my reviews and articles know that I have been a strong advocate of Titan Backup; it is my favorite backup utility. In the past I have often recommended Titan Backup v1.5 as the free backup tool of choice. Well now you can grab Titan Backup v2.0.2.39 for free.
Here are the major differences between Titan Backup v1.5 and v2:
(==============================================================)–> (Document created with RoboEditor. )============================–> (==============================================================)–> (Meta)==========================================================–> (Links)=========================================================–> (Body)==========================================================–>
Added support for AES 256 encryption.
ZIP64 support: zipped backups can now be larger than 4 GB. Entire compression engine was re-written to support large archives.
Incremental and Differential support for ZIP archives, and for self-extracting compressed archives.
Incremental and Differential support for CD/DVD with ZIP compression.
Incremental and Differential support for FTP (only with ZIP compression).
Support for split and spanning over multiple hard-drives (with ZIP compression).
Possibility to restore a specific version of a Stack backup.
Support for Microsoft Office 2008.
Export to HTML for logs.
Other not-so-major changes/tweaks/fixes in v2:
CD/DVD disk label patterns
Bug-fixes
Tray Popup Window with jobs status and progress.
Task Hints that quickly show task details.
Time Elapsed / Time Remaining estimations.
Scrolling Task progress display in the taskbar button.
"My Tasks" window's position, size and properties are saved and restored between sessions.
Existing FTP passwords are not visible anymore when editing a task for security reasons.
Sync Tasks creation link on the Welcome screen.
Faster CRC verification for incremental backups.
Solved Windows Defender user rights conflict on Windows Vista
Here are the main features of Titan Backup as per the developer:
Free plug-ins installed by default to facilitate the backup of email and rules for Microsoft Outlook , Outlook Express, Firefox, Opera, Thunderbird, Eudora and many user settings
Titan Backup lets you easily backup settings for Internet Explorer, Firefox, Opera browsers, email and rules for Microsoft Outlook, Outlook Express, Thunderbird, Eudora, Windows settings, Address Book. Check our website for new plugins that will allow Titan Backup to save settings for more applications.
Standard ZIP64 archives (unlimited in size) and self-extracting backups
Titan Backup doesn't use proprietary archive formats like other backup programs do. It uses the standard Zip file format. This makes it very easy to restore data manually form the backup archive even if Titan Backup is not installed. You can choose to create self-extracting archives that will allow you to unzip even if you don't have a compression tool. Titan Backup can also create backups without compression for faster processing and more redundancy. The files and folders structure is always preserved. You can create zipped backups with any source files size (you can compress files larger then 4 GB). Incremental and differential support also for zip compression. After you run a backup the first time, you can backup and compress only changed files (incremental). This feature works with any destination (CD/DVD, FTP, Local and LAN). You can also create a compressed backup with multiple hard-drives as destination (span over multiple partitions).
256-bit AES strong encryption to secure your backed up data
Titan Backup uses military strength 256-bit AES strong encryption to protect backed up data privacy. AES encryption algorithm has been adopted by NIST as an FIPS-approved (Federal Information Processing Standard) symmetric encryption algorithm that should be used by U.S. Government organizations (and others) to protect sensitive information.
Version control, incremental and differential backups to back up only new/changed files, or to delete from the current backup the files that don't exist anymore in the source location
Titan Backup provides a version control mechanism that allows you to backup only changed files. You can always view the differences between the current files and the last backup in a special view box that marks them in different colors. It can operate in incremental or differential modes to back up only new/changed files, or to delete from the current backup the files that don't exist anymore in the source location.
You can select external programs to run before the backup will start or after it ends. Also there is the possibility to shut down the computer automatically after the backup task is done.
File filtering to backup only the exact files you need
Users can filter selected files using filename masks, for instance users can choose to backup only .doc files in a certain folder or exclude all .exe files from another folder.
Backup to virtually any storage device: local folders, Local Area Network (LAN), CD/DVD, removable devices ( USB sticks, memory sticks, flash memory, floppy disks, ZIP disks, JAZ, etc.), remote FTP servers
Titan Backup allows you to backup on internal or external hard disks, on local area network locations, CD/DVD media, removable media devices ( USB sticks, memory sticks, flash memory, floppy disks, ZIP disks, JAZ, etc.), remote locations using FTP with upload auto-resume. If you backup to a CD/DVD, you can set a pattern label for this disk, so that you can later identify easily what backup is on this disk or when was it created (just by looking at the label).
You can include your Windows registry in the backup. Important notice: this feature should be used with caution, as restoring the Registry can be very dangerous for a novice user and can crash the system.
Built-in easy-to-use task scheduler so that your backups can be automatically created independent from your presence in front of the computer
While the Windows' scheduling agent is quite advanced, it can be difficult to use. Titan Backup makes it easier for you to schedule your backups from basic (such as running a task on a specified day and time) to very advanced settings.
Email notifications while the backup task is running and when the task is completed
You can configure Titan Backup to send notification email on errors, warnings or summary reports of a successfully finished backup task. Additional options allow you to attach the backup log file and send the email to several addresses. Email notification feature uses custom outgoing SMTP server.
Detailed logs of all backup operations
Titan Backup writes local logs of all backup operations, so you can determine what was backed up, start & end times, elapsed times, summary information, operation status, possible warnings and errors. The General Log contains general information about all of your tasks (start time, end time, error and warning messages). General log can be sorted by date. You can obtain information about your activities for a day or for a week, you can see what tasks finished today for example, and how they finished (successfully, with errors or warnings). You can export this general log into a text file or into a html file.
Synchronize operations of your data
Titan Backup offers you a synchronization engine for staying up to date with your data: you can synchronize data between your work laptop and personal computer for having latest versions of your projects on both locations; or by having a mirroring to ftp or a memory stick. Or you can just sync two different locations/folders on one computer.
Task Hints that quickly show task details, and Tray Popup Window with jobs status and progress
When you are over a task with your mouse, a hint will be appear with information about this task (Task type, destination, compression mode for a backup, elapsed time and time remaining if the task is running). When a task starts, or stops, you are informed by a sliding pop-up window on the bottom-right corner of your display. You can see if your task finished running (or a scheduled task is started), even you work with an other application, an other window. Also you can see the task progress in the taskbar, or by moving the mouse over the tray icon.
A huge list of features I know. I will sum it all up for you: Titan Backup kicks ***. If you need a backup program, get Titan Backup.
How to get Titan Backup v2? It is actually pretty simple:
***NOTE: You do not have to uninstall Titan Backup v1.5 if you have that installed.
Visit Brothersoft.com and sign in if you already have an account or register if you do not (registration is free no worries):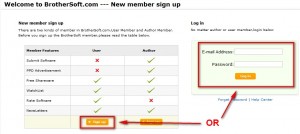 Once you are logged in make sure you are at your profile page. Then visit the free shareware page by clicking on "Free Shareware" from near the top right of the screen: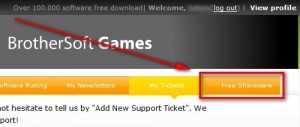 Scroll down to the very bottom and click on the "Download Now" button located under "Titan Backup":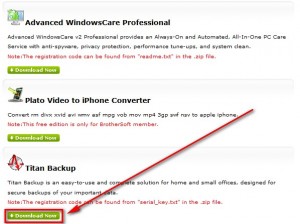 As you can see in the screenshot, you can also download Advanced WindowsCare Pro v2 and Plato Video to iPhone Converter. I personally would not recommend either of these software; grab WinUtilities 6.2 or TuneUp Utilities 2007 instead of Advanced WindowsCare Pro v2 and grab FormatFactory instead of Plato Video to iPhone Converter.
The file you download will be a ZIP file. Unzip/extract the ZIP file. You should now have setup_titan.exe and serial_key.txt. Run setup_titan.exe and install Titan Backup. When prompted for the serial key/registration code, open up serial_key.txt and copy + paste the serial key/registration code into the appropriate location.
***NOTE: If you already had Titan Backup v1.5 you may be prompted with a message telling you the key you have installed is not valid for the current version. Just click "Yes" and then input the serial key/registration code that came with Titan Backup v2 download. Please look at this screenshot for clarification if you have any problems (thanks Michal… again!).
Enjoy your new Titan Backup v2.0.2.39! :)
If you have any problems, questions, or concerns, please post below – I will try to help.
Related Posts