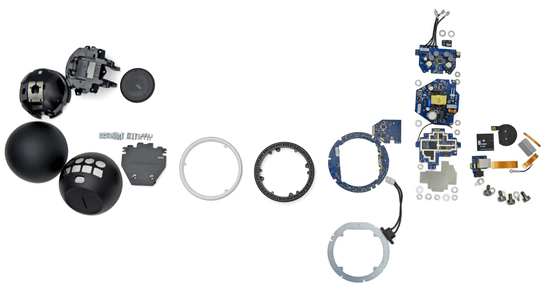 We had earlier reported Google Nexus Q is made in USA. The details of Nexus Q were revealed at the Google I/O 2012 developers conference last week, courtesy of a "Designed and Manufactured in USA" tag at the bottom of the device. Obviously Google's move to manufacture Nexus Q in the USA has received much appreciation, majorly from the US citizens.
iFixit, a website famous for its teardowns of electronic products and their extensive repair guides, have just has posted a teardown analysis of the Nexus Q. The teardown notes that the Google Nexus Q is not quite 'entirely' made in USA. While iFixit isn't calling out Google on its claim that Nexus Q is made in USA, iFixit points out that some of Nexus Q components may have been imported from overseas.
As Engadget notes,
Perhaps one of the most notable items, the Samsung 16GB moviNAND Flash Memory module, may have been made stateside (Austin, TX), but could also have been produced in Hwaseong, South Korea. Some parts, such as the ethernet port (China) or optical-out connector (Japan) could only have been imported.
It should be mentioned Google didn't make any claims that the product had all its components made in USA.
The detailed teardown of Google Nexus Q is available on the iFixit website. It explains the steps to teardown or repair the Q extensively; but you may still be better off not playing with your brand new Nexus Q if you are not sure what you are getting into. You can, however, check out images of the Q components and of the complete disassembly process.
What may be seen by some as irony, iFixit has designed a custom doodle for Google with the disassembled components of the Google Nexus Q. See the image above to view the doodle.
[via iFixit]
Related Posts