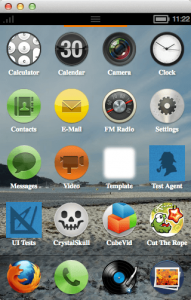 Firefox OS, Mozilla's attempt at a mobile operating system and formally known as Boot To Gecko, is now available for testing on your computer.
If you run Windows, Mac OS X, or Linux you can head over to Mozilla's FTP website to download nightly builds of Firefox OS. Since they are, after all, nightly builds (Firefox OS isn't even in Beta yet) you should not expect a fully finished product and you will more than likely face bugs and crashes. Still, though, being able to test Firefox OS on your computer is fun in and of itself. Take note Firefox OS is intended to be a mobile operating system so you won't be able to get a true feeling for it on your non-touch traditional computer.
For Linux, Mozilla is providing source tars which you can build yourself; for Windows and Mac OS X, Firefox OS has been packaged into executables. Although the Windows and Mac OS X versions come in neat packages, there is still some configuring you need to do before you can get into Firefox OS but it isn't a very difficult process; the instructions on how to setup Firefox OS on Windows, Mac OS X, or Linux can be found on Mozilla's Gaia/Hacking page (link given below).
You can grab Firefox OS nightly builds from the links below. Be sure to share with us in the comments your thoughts on Firefox OS and, if you decide to download it, your experience with it.
Firefox OS nightly build FTP repository
[Direct download – Windows installer v17.0a1]
[Direct download – Mac OS X installer v17.0a1]
[Direct download – Linux v17.0a1]
[via Engadget | Image credit: ArsTechnica]
Related Posts