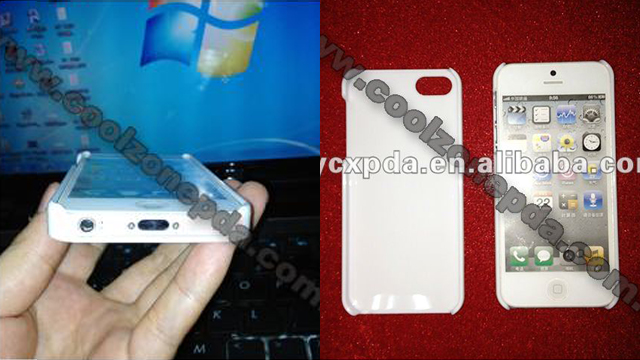 We have heard plenty of iPhone 5 rumors. An Asian accessories manufacturer leaked that iPhone will be launched on September 21, 2012. Now another Chinese accessories maker is providing another Apple teaser; this time it is photos of what might be a real, finalized iPhone 5.
Coolzonepda.com.cn has posted photos on its website of a case and what looks to be an iPhone 5 that very closely matches leaks and rumors, such as the new 19-pin and headphone jack moved to the bottom. It is hard to tell if the iPhone 5 is a real, working device or just a dummy device given to the manufacturer by Apple for the purposes of designing accessories. If I were to take a guess, it looks to be a dummy device.
As Gizmodo rightly points out, this may or may not be an Apple-made device. In other words, there is past history of Apple devices leaking from Foxconn factories. And if the iPhone 5 is indeed going to be released in September, this would seem like the proper time for Apple to have a finalized design for the device so it can be mass manufactured. So this could be real. On the other hand, the device in the image matches leaked iPhone 5 specs; in fact it seems to match them a bit too closely, meaning the device may just be a dummy device built by the accessories manufacturer (not Apple) for the purposes of getting a jump start on designing iPhone 5 accessories. Alternatively, Coolzonepda could have built the dummy device for the sole purpose for starting a rumor and driving interest/traffic to their company.
It, of course, is impossible to know at this moment if the device shown in the image is indeed a working or dummy version of an iPhone 5. We will only find out for sure when Apple drops the curtain on the much anticipated product. Is your mouth watery, yet?
[via Gizmodo]
Related Posts