Note: Ashraf already posted about his favorite screenshot program here.  I am just informing you about this great offer!
TechSmith is offering an old version- 7.2.5- of their screenshot software, SnagIt, for free.
SnagIt is, according to CNET:
The good: New Web Capture feature takes shots of entire Web pages; simultaneous multiple output; scrolls screen automatically; includes image annotator and catalog/thumbnail viewer.

The bad: Weak wizard; fewer output file formats than competitors; no Mac version.
According to Top Ten Reviews.com, it is very easy to use!
To register,  follow the link at the bottom and find a page like this: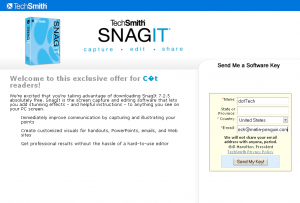 You should enter a valid email, because they email you the key.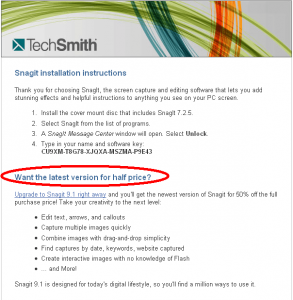 Note that you can get the new version for 50% off by following the instructions in the email.
Download:
Get the link in the email
Get your free key:
http://www.techsmith.com/Covermount/covermount.asp?ID=8
Suggestions?  Other comments?  I need to improve!  Please add comments.
Via XP Bargains
Related Posts