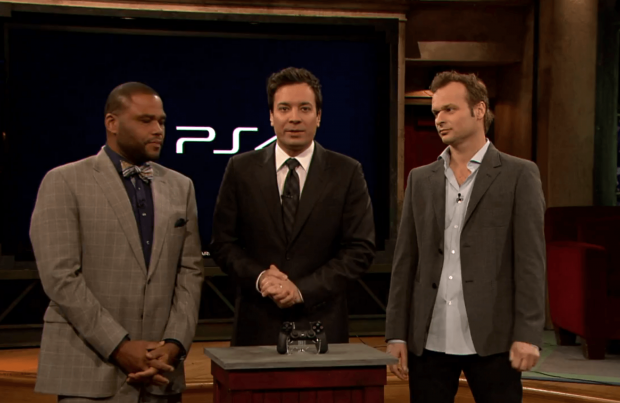 So after announcing the PlayStation 4, Sony quickly whisked away anything related to the console before anyone could get their hands on it. Journalists have reported that the company didn't allow anyone to get a feel for the controller, or even get a picture of it.
But here comes Jimmy Fallon, the late night talk show host, with the first ever public hands-on demo of the PS4. Not only does he get to hold the controller, he even gets to play a little bit of Killzone Shadow Fall! As a self-proclaimed geek and gamer, I think Jimmy's a cool guy. He often shows off the latest video games on his show, and it's great exposure for the industry to reach that audience.
What I don't understand, is how he can not understand how to control the game at all? You could say it's his first time to play the game, but virtually all games of this genre control similarly. Maybe he was just trying to make people laugh? Or maybe he doesn't really know how to play video games. This isn't the first time too! But hey, if the guy enjoys it, who can blame him?
See for yourself below:
[via Kotaku]
Related Posts