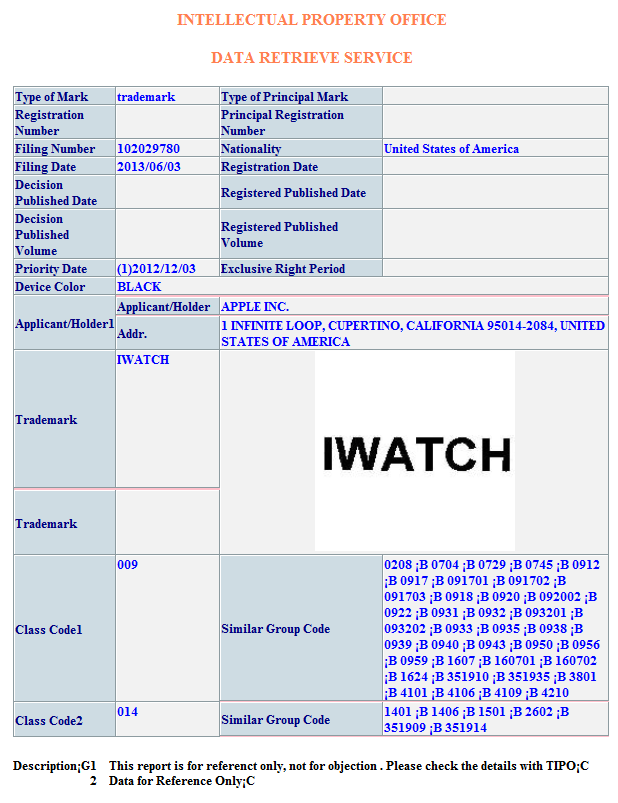 Following our reports that Apple is seeking trademark of the name "iWatch" in Russia and Japan, we know learned that it has done the same filings in Mexico and Taiwan. This now makes Apple's trademark filings for the iWatch into four and increases the probability of Apple coming up with a wearable product with smartphone capability.
Both the trademark filings in Mexico and Taiwan shows Apple as the company requesting for the trademark with the address being the Infinite Loop in Cupertino, California.  Arochi, Marroquin & Linden, S.C. a Mexican-based law which has worked with other Apple trademarks before has submitted the filing in Mexico.
In case you missed our previous report, it was said that Apple has already put up a team of 100 product designers who are working on the "iWatch" which may feature a 1.5-2.0 inch OLED display together with similar features as the iPhone.
With these filings in four different countries, it seems that Samsung has more reason to speed up its plans of releasing the same smart wearable watch if it wants to beat Apple in the race. And perhaps worry about the trademark later.
[via MacRumors, image via TMSearch]
Related Posts