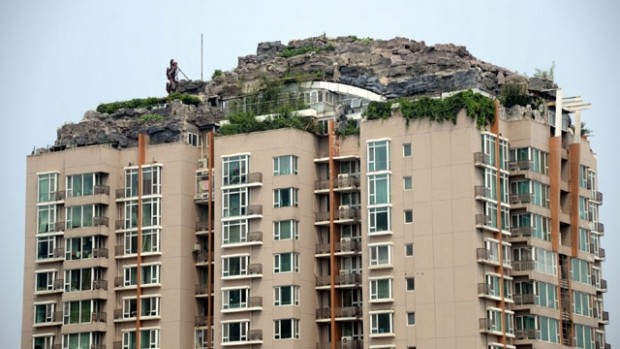 A man, who goes by the name Professor Zhang, took 6 years to build what he calls an ornamental garden on top of a Beijing skyscraper. You see, Zhang had purchased the top floor of a 26-story skyscraper for quite a while now, and during his building process, no authorized personnel came around to figure out what was going on, until now.
Obviously, Professor Zhang's little escapade is illegal since he didn't seek permission from the district urban management officials. If Zhang is unable to prove his building plans were legal, everything he has built in that 6 years will be torn down in 15 days, which is quite sad since his so-called ornamental garden with a house hidden inside, is quite the beauty.
Furthermore, we understand that during the building phase, residents complained of broken pipes and noise. In addition, after its completion, residents began complain of loud parties inside Zhangs's little mansion, which proves this professor has a wild side to him.
It's quite troubling to know a person could take 6 years to build something so profound, yet the authorities never took the time out to confront Mr. Zhang about his actions. We have to wonder, what other things goes on in China in plain sight without relevant personnel's knowing? Someone should attempt to build an ornamental garden on the Chinese military base, just to see if someone would come running.
[via The Guardian, image via ClickOnDetroit]
Related Posts