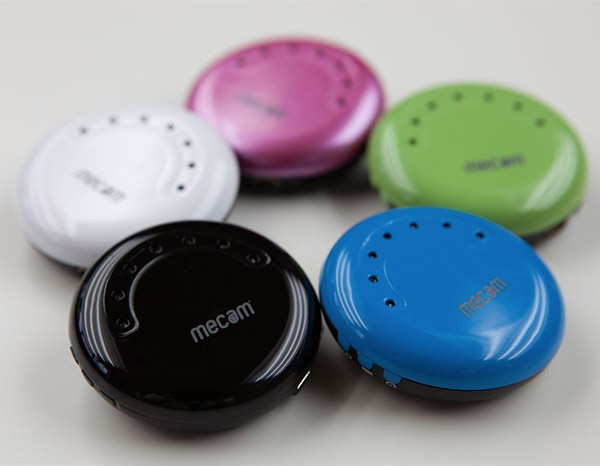 With the NSA spying on the world and getting away with it, it shouldn't be too much of a problem if you did a similar thing, but on a very low scale. For your spying pleasure, here is the MeCam, a small camera device that pins to your shirt discreetly so no one will ever know what is really going down.
The MeCam is quite slick, especially how it is designed. It is possible the user could walk into any establishment with this device pinned on their person, and no one would realize it's a camera. We could see this working wonders for journalists and men who feel compelled to spy on their wives, or the other way around. Of course it should be noted anyone that knows what MeCam is can easily identify the device (because, as you can see, it even says "mecam" on it) but really how many people suspect what is essentially a pin/button to be a camera?
Now, you might not have realized it, but this bad boy is packing a punch for such a small spy cam. On the inside, you'll find a cool 5-megapixel camera that is capable of taking videos at 720p HD, awesome right? Furthermore, the MeCam possesses the ability to record audio from just 20 feet away, which is not bad to be completely honest.
If you're out on a stroll during the night hours, worry not champion, the MeCam is capable of recording in low-light due to the infrared LED lights surrounding the camera on the face of the device.
Additionally, there are 4GB, 8GB, and 16GB versions of the MeCam, which should give the user 1-hour, 2-hours, and 4-hours of recording time respectively. Furthermore, price starts at $49.99 up to $69.99, so in a sense, it's also quite affordable to own your very own amateur spy equipment.
Now go forth wannabe Batman and spy to your heart's pleasure. Just remember, whenever you get caught, don't you ever rat us out as the source of your spying capabilities, because we'll come for you.
[via MeCam]
Related Posts