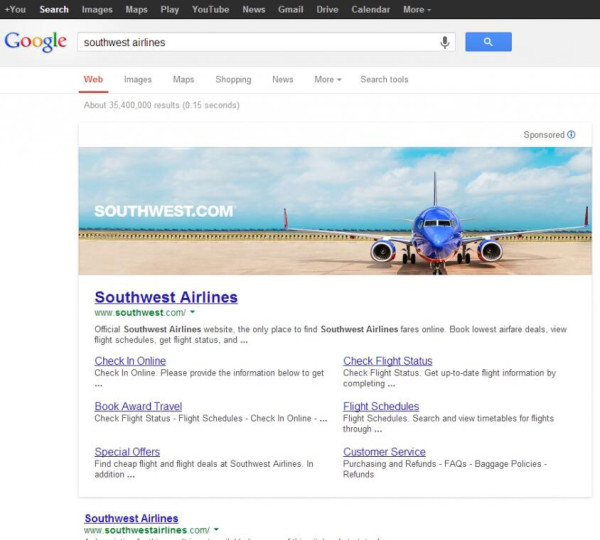 Google may soon change the way ads look to make them more graphic and more visible. The online giant testing the use of large banner ads in search results for selected brands, despite a promise in 2005 that Google would never display banner ads on Google Search: "There will never be crazy commercials that fill your screen and move on it. Never."
According to Search Engine Land, SynrgyHQ posted a picture on Twitter showing how Google ads will look like in the future, through a print screen that displays a commercial airline named Southwest Airlines. A Google spokesman confirmed that this is a little experiment made for the U.S. market, but did not say whether it will be introduced worldwide.
Basically, the new type of ad is an image stretched across the whole screen, with paid links beneath it. Until now, ads on Google Search have been text-based and tried to emulate the style of unpaid legitimate searches to make the user experience more natural.
It isn't clear if these type of ads will make it mainstream but, as of now, the new type of ad is being tested with 30 companies in the United States and occurs in less than 5% searches.
[via searchengineland, image via searchengineland]
Related Posts